Volkswagen Launches All-New Information Platform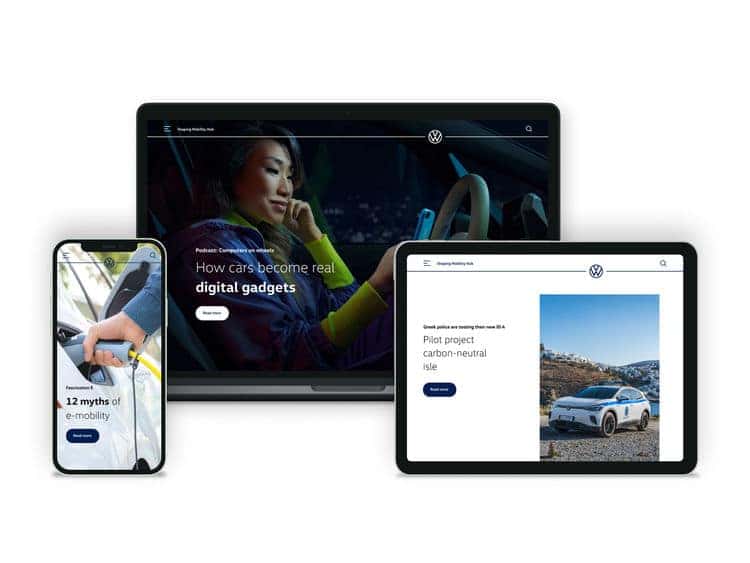 Photo credit: Volkswagen
Volkswagen launches an all-new international website to present reports, interviews, and detailed tech insights into mobility topics of the future. Now offering bloggers and influencers a new way of keeping informed and on top of the latest technology that Volkswagen has to offer. Launching the platform to coincide with the IAA MOBILITY in Munich, including live streams and podcasts. The new Shaping Mobility Hub can be accessed through the following link on the Volkswagen website list www.shaping-mobility.volkswagen.com. Volkswagen wants users to have access to exclusive stories, controversial discussions, and extensive research options in the areas of sustainability and innovation.
The German automaker continues to release all-new updates to its lineup, including over-the-air updates to its newest ID.Family electric vehicles. The updates will occur regularly every three months with no need to visit a local dealership. Volkswagen becomes the first automaker to offer this service, using customer feedback to base the improvements necessary. The ID.Family vehicles currently communicate with drivers and passengers via a Volkswagen Light strip purposely positioned in the drivers' peripheral field of vision to keep drivers focused on the road. The new Shaping Mobility Hub will keep Volkswagen buyers and enthusiasts informed of what the future holds in store for vehicles both in safety features and technology updates .
The Shaping Mobility Hub is just the beginning of Volkswagen's initiative to communicate its ACCELERATE strategy. The plan to rapidly accelerate the global e-campaign by 2030, it will increase its share of electric vehicle deliveries to over 70%. The introduction of the 2021 Volkswagen ID.4 has given a perfect example of what a quality electric vehicle brings to the market. Volkswagen will use the Shaping Mobility Hub to keep the world informed of the technology features that will soon arrive in the upcoming 2022 Volkswagen ID.5, 2023 Volkswagen ID.6, and the highly anticipated 2024 ID. Buzz. The lineup is quickly converting to fully electric as the world takes a step towards ending pollution from combustion engines. 
The automaker has promised that a Volkswagen ID.2 will soon emerge to take over as one of the most affordable electric vehicles for entry-level buyers. The company has even launched an all-new EV Car subscription program in Germany to offer monthly subscriptions for interested customers. The subscription program will include everything from registration, maintenance, and even pay insurance and road tax. Offering buyers a simple way to drive an electric vehicle without the hassle of all the paperwork. While the program is only offered in Germany, plans to expand are currently being reviewed. Ready to drive an all-new Volkswagen electric vehicle?        
 Come To Southern Volkswagen To Test-Drive A New Volkswagen Today!
We're all about helping our customers enjoy their shopping experience at Southern Volkswagen. We have a friendly and passionate sales team that will make your buying, leasing or selling needs easy for any of our new vehicle inventory. We're here to help with any financial help, needs or suggestions to help make paying for a vehicle easier. Apply for Auto financing with our assistance right now. Stop by today and see what we can do for you right now at Southern Volkswagen.
Don't forget we have a trained service team that can help with an online appointment to get started on all maintenance work and repairs. We look forward to helping you at Southern Volkswagen.