The All-New Volkswagen ID.4 Communicates With Vehicle Passengers Via A Light Strip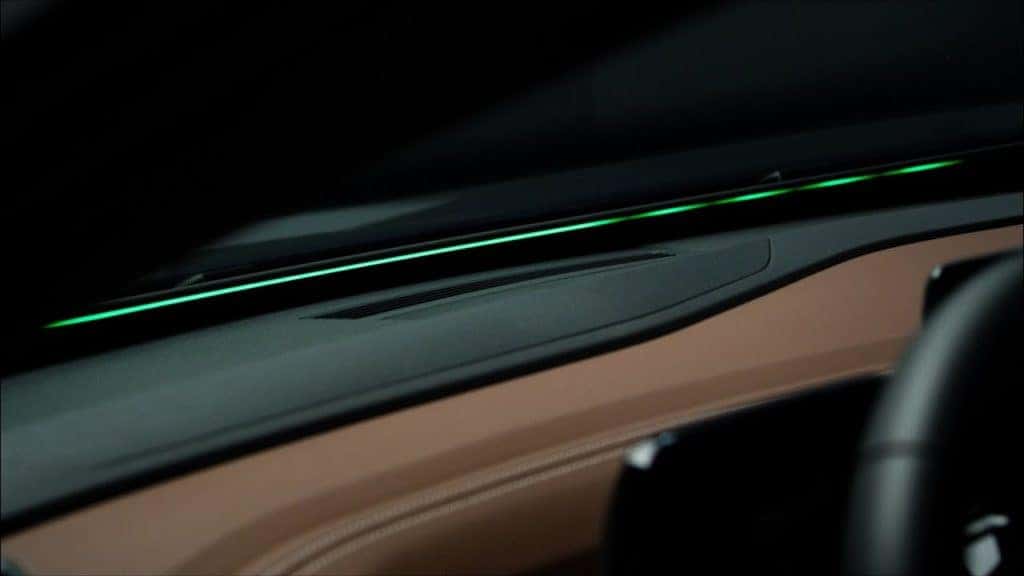 Photo Credit: Volkswagen
The 2021 Volkswagen ID.4 is an example of what all vehicles will start merging towards as the fight towards a cleaner future continues. The ID.4 was built on an MEB platform and the fully electric SUV is packed with amazing technology. Volkswagen has made it a point to focus on its fully electric ID.family lineup, pushing the limits in both performance and range. The ID.3 and ID.4 are the first Volkswagen models to be equipped with the new ID. Light Strip as standard. The Light Strip is made of 54 multi-colored LEDs and comes positioned on the bottom of the windscreen. The sole purpose of the new Light Strip is to communicate with drivers, the light is purposely positioned in the drivers' peripheral field of vision. Due to the many distractions on the road, the light strip variation and color animations have been proven to keep drivers' eyes on the road.          
"We wanted a new type of communication between vehicle and human," says Mathias Kuhn, Head of User Interface Design at Volkswagen. "It was important to create a minimalistic but special form of interaction that is both easy to understand and emotional." This interaction between man and "machine" begins as soon as the driver sits down in the ID.3 or ID.4.
As the years go by, more and more driver assistance technology is available on the market, autonomous driving vehicles are not too far off either. Volkswagen began to introduce their long-awaited ID.buzz microbus into the autonomous world. Targeting the European market on converting the ID. Buzz into a sort of taxi and transporting vehicle for companies to use. To fully grasp that idea of what Volkswagen intends to do is basically taking a trip into the future. Imagine a world where all vehicles are autonomous, with no need for human drivers. Meaning Volkswagen will be one of the first companies to be able to support a fleet of autonomous vehicles to help the workforce.
The lighting strips have a few different options when communicating with the driver, a "welcome" animation is the first to turn on with a blue and white light signaling the vehicle is ready for use. Usually, a conventional vehicle will have some type of engine sound, while the ID.4 is almost completely silent. If drivers are using the onboard navigation the ID.4 Light strip is active to indicate when turns are coming up or any route changes. In the case of any emergency stop, the lighting strip will flash red, and green when the driver is receiving any incoming calls. This particular function is very useful when charging the ID.4, pulsing a green light allowing drivers to see the state of charge from both inside and even from a distance.     
The 2021 Volkswagen ID.4 comes standard with a rear-mounted motor that propels power through the rear tires to generate 201 horsepower. For customers interested in the available all-wheel drive, a second electric motor will be added to the ID.4 that will push power through the front tires giving drivers quicker acceleration and double the power. Paired with intelligent handling that distributes all that power most efficiently. The all-wheel-drive trim will be able to produce an impressive 302 horsepower giving the 2021 ID.4 the competitive edge it needs. Volkswagen claims the 2021 ID.4's 77 kWh battery pack holds enough juice to power up the SUV up to 260 miles between charges. The battery can easily be charged at home through 120-volt or 240-volt household connections. Volkswagen makes charging easy for the ID.4. Although the ID.4 is DC fast Charging ready.
Come To Southern Volkswagen To Test-Drive A New Volkswagen Today!
Are you excited about getting a new car? So are we! At Southern Volkswagen, we're more than excited to help our customers, we're thrilled. Looking for a new option to buy or lease? Take a look at our new vehicle inventory or our quality pre-owned vehicles. We can help sell your current vehicle or bring it back to life like new with an online appointment at our service center. Allow our professional techs to get started on all repairs or maintenance work. 
Looking for options with any financial help, needs, or suggestions to help make paying for a vehicle easier? Apply for Auto financing. Stop by today and see what we can do for you at Southern Volkswagen right now.