Volkswagen Takes The Spotlight at the First 2021 Balloon World Cup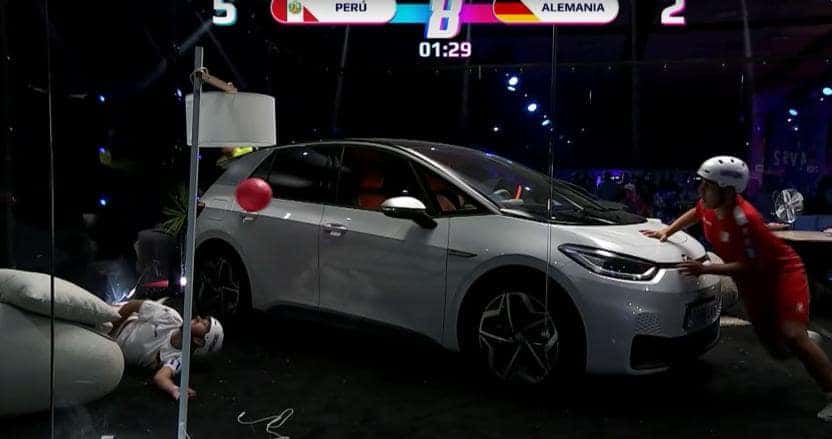 Photo credit: Volkswagen
Volkswagen stages a member of its popular ID.Family in the first ever 2021 Balloon World Cup. The Balloon World Cup is a competition created by world-known professional soccer player Gerard Pique and Spanish streamer Ibai Llanos. The game takes everyone on a roller coaster ride back to their childhoods by playing the simple game of not letting a balloon touch the floor. Although it may sound simple, the stakes are for this tournament which takes place in Port Aventura, Spain. Now I know you are thinking what exactly does Volkswagen have to do with the Balloon World Cup? 
Well, the answer to that question is nothing, nothing at all, but the German automaker chose to display the popular ID.3 compact SUV that has sold over 150,000 units across Europe. The small SUV ID.3 which has a range of 340 miles was strategically placed on the game floor of the Balloon World Cup gaining worldwide exposure. Volkswagen's ID.3 was center stage through the whole match while an audience of about 500,000 viewers on twitch alone enjoyed the match. The game floor consists of room furniture placed to obstruct players from moving easily while trying to maintain from letting a balloon fall on the floor. The competition consists of 32 teams from different countries competing against one another.
While the first Balloon World Cup features the ID.3, the next one is sure to display the popular 2021 ID.4 that has made high expectations for future electric vehicles. The 2021 ID.4 features an MEB platform that has an elongated wheelbase and short overhangs purposely opening up space. The 70-kWh battery pack holds enough juice to power the SUV up to 260 miles between charges. The battery can easily be charged at home through 120-volt or 240-volt household connections. A powerful electric motor is capable of producing 201 horsepower with a standard rear mounted electric motor. Upgrading to all-wheel-drive trims, buyers receive dual motors that generate power through all four tires.  
The rest of the ID.Family is set to arrive soon, including the 2021 ID.4 GTX, 2022 ID.5 large SUV, 2024 ID. Buzz Microbus, and rumors have been spreading about an  ID.2 on the horizon. Volkswagen is focused on growing its all-electric ID.Family and moving towards a cleaner and safer future for all. The next step is the release of the Volkswagen ID.Life, the automaker's vehicle that will symbolize sustainability, digital technology, and timeless design. The ID.Life will offer an electric option at an affordable price in a much-needed electric segment. Ready to join in on the Volkswagen movement? 
Come To Southern Volkswagen To Test-Drive A New Volkswagen Today!
Are you excited about getting a new car? So are we! At Southern Volkswagen, we're more than excited to help our customers, we're thrilled. Looking for a new option to buy or lease? Take a look at our new vehicle inventory or our quality pre-owned vehicles. We can help sell your current vehicle or bring it back to life like new with an online appointment at our service center. Allow our professional techs to get started on all repairs or maintenance work. 
Looking for options with any financial help, needs, or suggestions to help make paying for a vehicle easier? Apply for Auto financing. Stop by today and see what we can do for you at Southern Volkswagen right now