Volkswagen Makes Charging Easy With The All-New 2021 ID.4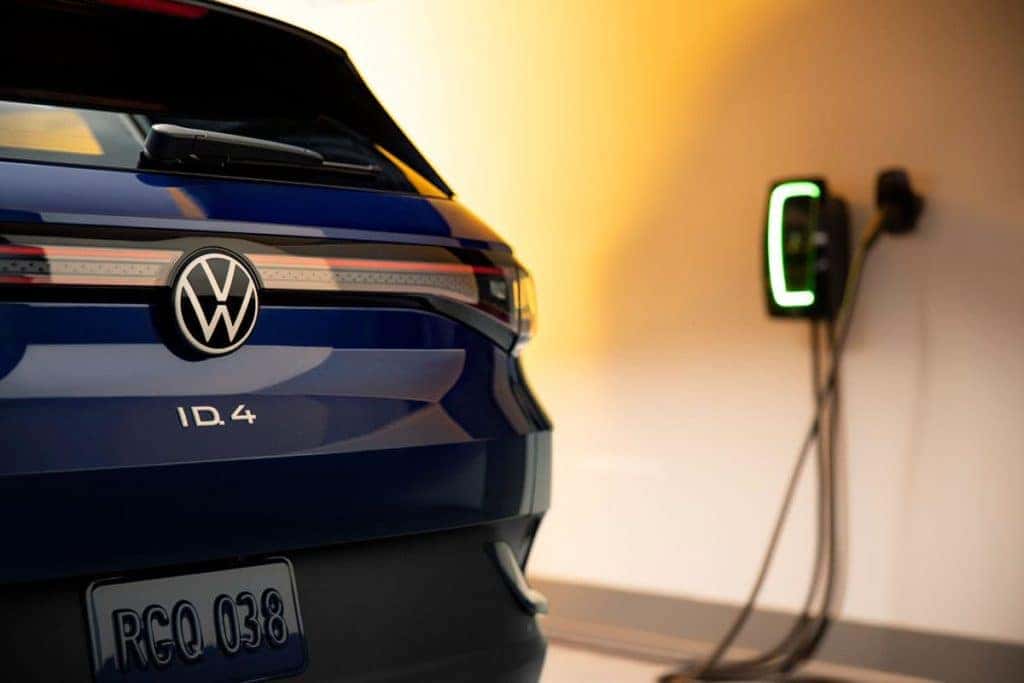 Photo credit: Volkswagen
Volkswagen continues to stand out in the automotive industry, setting the expectation for both conventional vehicles and electric vehicles. The introduction of the highly anticipated 2021 Volkswagen ID.4 has unleashed a huge demand for electric vehicles across the world. Obviously driving a vehicle that has zero gas consumption is one of the biggest attributes buyers can first think of, but that's just the beginning of amazing reasons why to own a 2021 ID.4. Now while not having to fill up at a gas station again sounds convincing, understanding how to charge an electric vehicle is very important and useful towards deciding on switching to the electric family. Volkswagen's goal is to educate its customers on every different aspect of electric vehicles. Let's break down the different ways to charge the all-new 2021 Volkswagen ID.4.
Level 1 – 120-Volt Residential Charging 
The first thing is understanding how the ID.4's battery works, and how an electric vehicle makes use of its battery. Like a smartphone? Does it turn off when it's low on battery? When an electric vehicle battery becomes depleted, the battery recharges using grid electricity from a dedicated charging station or a wall socket if using home charging. Volkswagen conveniently offers three different levels of charging with the first level being a standard 120- volt socket that powers almost anything in a common household. Level one chargers plug directly into a standard 120-volt AC outlet and begin to charge the EV battery. Unfortunately, charging via a 120-volt socket is the slowest type of charging equipment, it can produce up to 50 miles of driving range in about 10 hours and may not suffice for many buyers. According to the US average cost of electricity at 13.3¢/ kWh, a full overnight charge costs anywhere from $1.33 to $13.00 depending on the size of the EV battery and electricity output. Depending on the use of the electric vehicle, a standard 120-volt socket will work much better for buyers who work from home or don't intend on driving long distances daily. 
Level 2 – 240-Volt Residential, Public Charging 
Moving on to level 2 charging which utilizes a 240-volt socket, one most commonly used with a bigger household appliance like a washing machine, dishwasher, and stove. The 240-volt socket is ready to distribute double the amount of power as the 120-volt and is capable of charging an electric vehicle at an average of 18-28 miles of range per hour. Level two chargers on average can fully charge a vehicle in eight hours, meaning level two better suits customers who drive to work daily, work using their vehicle, or just want to have the ability to fully charge overnight. The US average cost of electricity at 13.3¢/ kWh pushes the cost of a full charge between $6.00 to $10.00, translating to about $1-5.00 per hour of charge. Level 2 charging is currently the most used method in households across the world. Beyond level 2, we move into the most powerful and quickest way of charging which is a Direct Current Fast Charger.
Level 3 Direct Current Fast Charger 
Now, onto the fastest method of charging which is a Level 3 Direct Current Charges, DCFC chargers are equipped with a maximum output of 350 kW. DCFCs are designed to recharge an EV battery to 80% in just 20-40 minutes, and 100% in 60-90 minutes. Unfortunately, due to their high cost and extremely high power draw, they are unavailable for residential use, classifying them as a pure public charger. Currently, there are 15,000 DCFC plus in the United States, but the forecast indicates a significant rise in the upcoming years due to the recent demand of electric vehicles. DCFC charging sessions can be billed either by kWh or per minute, many states are still passing regulations due to some laws making it illegal to charge per kWh. Billing rates are determined by charging networks or site hosts, the average cost in the United States is $0.35/kWh. Using that figure, a full charge can cost anywhere from $10.00 to $30.00 depending on the size of the EV battery. Ready to check out some Volkswagen specials? At Southern Volkswagen, the deals are never-ending!            
Come To Southern Volkswagen To Test-Drive A New Volkswagen Today!
We're all about helping our customers enjoy their shopping experience at Southern Volkswagen. We have a friendly and passionate sales team that will make your buying, leasing or selling needs easy for any of our new vehicle inventory. We're here to help with any financial help, needs or suggestions to help make paying for a vehicle easier. Apply for Auto financing with our assistance right now. Stop by today and see what we can do for you right now at Southern Chrysler Jeep – Greenbrier.
Don't forget we have a trained service team that can help with an online appointment to get started on all maintenance work and repairs. We look forward to helping you at Southern Volkswagen.