2021 Volkswagen ID.4 Continues To Stand Out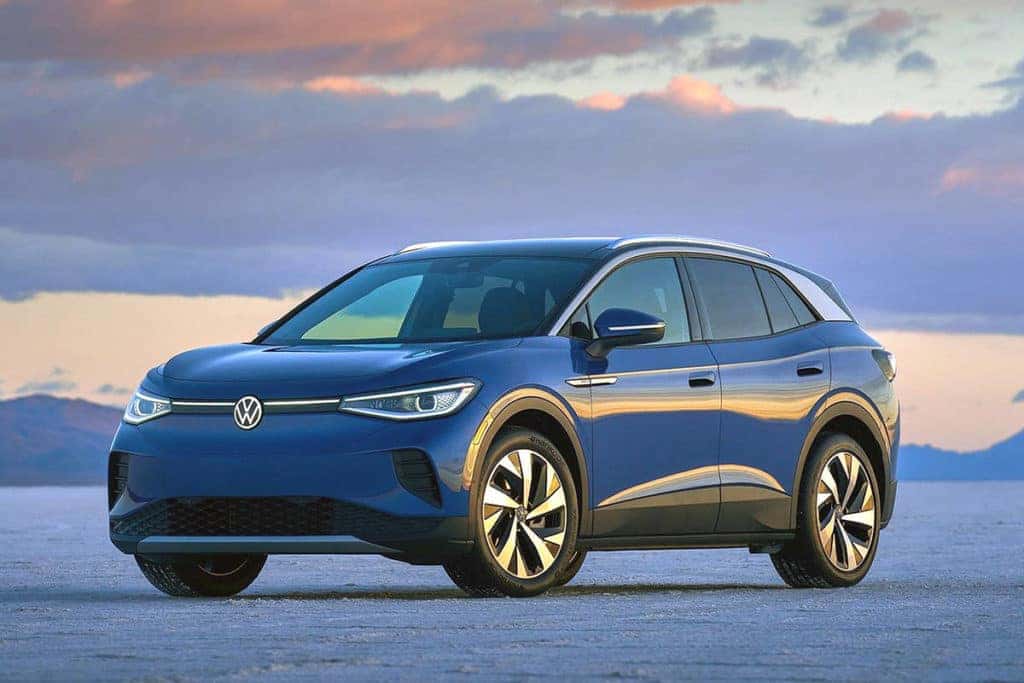 Photo credit: Volkswagen
Volkswagen has teased enthusiasts with a long lineup of electric-powered concept cars, and now finally delivering on its promise with the ID.4 electric SUV. While Volkswagen continues to focus on its fully electric lineup, the all-new 2021 Volkswagen ID.4 has made its way into all Volkswagen Dealerships. At first glance, the 2021 Volkswagen ID.4 has clean aerodynamic lines combined with a bold presence to begin the new era of fully electric SUV. With a starting MSRP of $39,995 (Plus destination fee), Volkswagen drops its traditional S, SE, and SEL trim levels and will now use Base, Pro, and 1st Edition trims. Volkswagen will launch an entry-level ID.4 sometime in 2022, with a base trim price of $35,000 MSRP (Plus destination fee). In the meantime, the ID.4 Pro and top-tier 1st Edition trims serve as the ID.4 launch trims. Let's break down everything buyers need to know about the fully electric SUV.
Inside the 2021 Volkswagen ID.4 
The 2021 Volkswagen ID.4 SUV was built with an MEB platform that has an elongated wheelbase and short overhangs purposely opening up space. Additionally, with the absence of a combustion engine, Volkswagen takes the opportunity to maximize the interior cabin of the 2021 ID.4 with a bunch of add-ons. With the first step into the 2021 ID.4, Buyers will instantly feel how the SUV was designed with all passengers in mind. Beginning with high-tech features such as a standard 5.3-inch reconfigurable digital gauge display with voice recognition capability, ambient lighting, and generous cargo space assures the 2021 ID.4 is here to make an impact on the electric market. The ID.4 comes standard with a 10.0-inch infotainment touchscreen that has an optional upgrade to a 12.0-inch display with its own unique interface program. With various different packages available, the ID.4 has become a fan favorite.         
How the 2021 Volkswagen ID.4 Runs
The 2021 Volkswagen ID.4 comes with a rear-mounted motor that pushes power through the rear tires to produce 201 horsepower that comes standard on all trims. For buyers interested in the available all-wheel drive, a second electric motor will need to be added that will push power through the front tires giving drivers quicker acceleration. Paired with intelligent handling that distributes all that power in the most efficient way. The all-wheel-drive trim will be able to produce an impressive 302 horsepower giving the 2021 ID.4 the competitive edge it needs. Volkswagen claims the 2021 ID.4's 77 kWh battery pack holds enough juice to power up the SUV up to 260 miles between charges. The battery can easily be charged at home through 120-volt or 240-volt household connections. Although the ID.4 is DC fast Charging ready. Ready to move into an electric vehicle?   
Come To Southern Volkswagen To Test-Drive New Volkswagen Today!
We're all about helping our customers enjoy their shopping experience at Southern Volkswagen. We have a friendly and passionate sales team that will make your buying, leasing or selling needs easy for any of our new vehicle inventory. We're here to help with any financial help, needs, or suggestions to help make paying for a vehicle easier. Apply for Auto financing with our assistance right now. Stop by today and see what we can do for you right now at Southern Chrysler Jeep – Greenbrier.
Don't forget we have a trained service team that can help with an online appointment to get started on all maintenance work and repairs. We look forward to helping you at Southern Volkswagen.