Volkswagen Inspired The Start of Top Dog Toy Maker KONG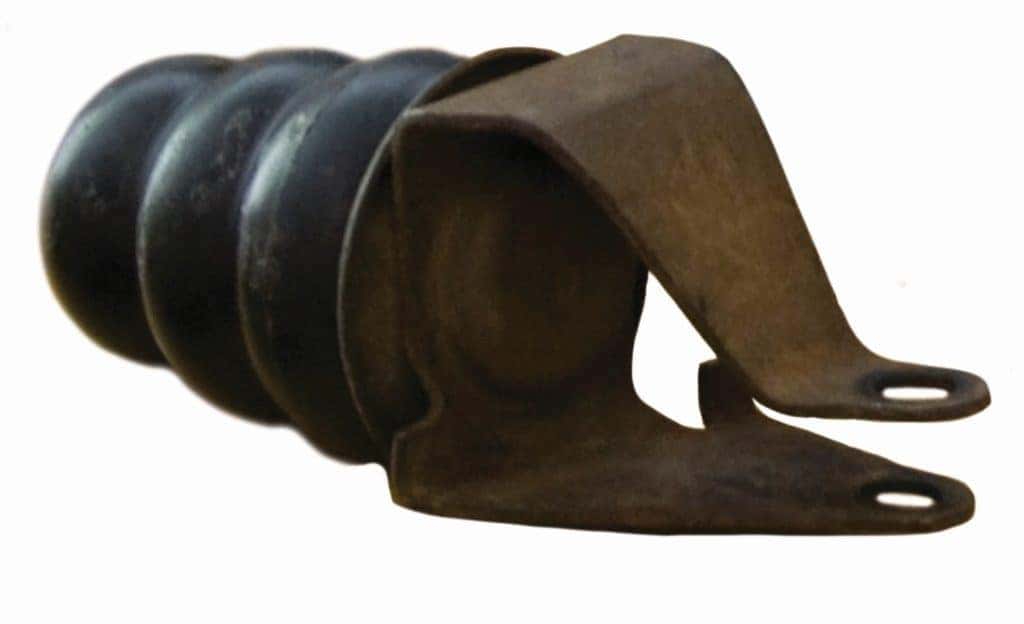 Photo credit: Volkswagen
Volkswagen can easily be considered the leader in the latest safety technologies and newest electric vehicles. Surprisingly, Volkswagen is responsible for inspiring one of the world's leading dog toy brands. KONG is spread around millions of American Households many of  whom have a dog. Many are familiar with the KONG toy, a rugged rubber cone that's meant to be filled with treats and keep dogs entertained for quite some time. Although the toy seems like it was catered to our pets, it started out as a Volkswagen vehicle part. 
Back in 1970, KONG inventor Joe Markham owned an auto repair shop in downtown Denver that was burglarized many times. It wasn't the safest area at the time, but it was home to Markham. The 25-year-old mechanic became frustrated and turned for help from the local police department. Requesting more patrols in the area but due to budget cuts his request was denied and he had to find some other alternative. A guard dog was the perfect option for him, a loyal, tough pup to keep all the thieves away. 
Out of pure coincidence Markham knew of a dog that was in need of a good home. Fritz, a larger German Shepherd who had flunked out of the police academy canine division for "excessive chewing". Markham being a dog lover himself bolted at the chance to adopt Fritz, after he took the pup home and quickly saw why the dog's chewing addiction got him out of the police academy. The newly added security at Markhams shop was known for chewing everything, anything he found including rocks to car parts lying around. So began the beginning of Markham's project to help Fritz with his chewing addiction. 
Markham turned to veterinarians and other dog behavior experts, but he ended up empty-handed and with no course of action. One day Markham was working on a customer's 1960's Volkswagen Type 2 Bus, and Fritz began to go crazy chewing something. The Vehicle came into the shop for suspension work and in a state of disassembly, Fritz got a hold of a bulbous rubber axle stop that had rolled towards him. The tough rubber and shape made it an ideal toy for Fritz to chew without breaking it. Markham spent the next six years experimenting with rubber composition, size, and shape of the toy and finally settled with a company from Germany to finalize the tight chemistry and composition. 
The rest was history from there, KONG began the takeover of homes all over the world in 1976 and continues to bring out new products stemming from the sole Volkswagen vehicle. The 2024 Volkswagen ID. Buzz is set to arrive soon in dealerships bringing back some of the groovy vibes from the past. The German automaker even intends to make the 2024 ID. Buzz set to become a self-driving taxi service. Volkswagen is moving forward on all fronts. Interested in finding out more about Volkswagen's vehicles?  
Come To Southern Volkswagen To Test-Drive A New Volkswagen Today!
Are you excited about getting a new car? So are we! At Southern Volkswagen, we're more than excited to help our customers, we're thrilled. Looking for a new option to buy or lease? Take a look at our new vehicle inventory or our quality pre-owned vehicles. We can help sell your current vehicle or bring it back to life like new with an online appointment at our service center. Allow our professional techs to get started on all repairs or maintenance work. 
Looking for options with any financial help, needs, or suggestions to help make paying for a vehicle easier? Apply for Auto financing. Stop by today and see what we can do for you at Southern Volkswagen right now.