Digging Deeper Into What Inclusive Mobility Means To Volkswagen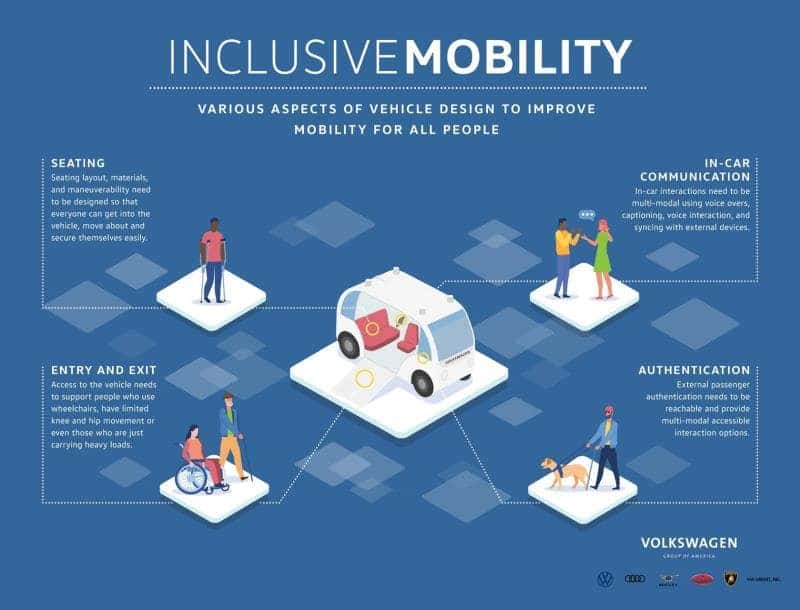 Photo credit: Volkswagen
Volkswagen is making a promise that all autonomous vehicles will improve their safety and much more. Back in 2017, Volkswagen Group of America launched its inclusive mobility initiative. The inclusive mobility mission is to help design vehicles and services that improve transportation and the quality of life for everyone, especially people with disabilities. The team will explore automotive design solutions related to people with mobility, vision, hearing, and cognition disabilities. Volkswagen continues to keep pushing the brand to be the first to break through new barriers.
According to the U.S. Census Bureau, nearly one in five people have a disability in the U.S., creating a largely underserved segment of our population. Volkswagen wants to focus on evolving the way vehicles adapt to not only driving styles but lifestyles also. Now, the company aims for the program to collaborate with disability groups in the earliest stages of the design of vehicle technologies and mobility services. Meaning the automaker will know what is needed beforehand and make sure the vehicle can help as much as possible. This program can become the beginning of a new era enabling people who couldn't drive before due to their disabilities to drive freely.
Volkswagen understands that offering new advances in vehicle technology can offer life changing-potential. The Inclusive Mobility Design Partner Program is working with a number of Disability advocacy and community to identify mobility challenges that individuals with disabilities encounter daily. Volkswagen is constantly learning from those they work with engagement and co-sponsored events, like the roundtable discussion that was hosted in Washington D.C. back in December involving disability advocacy groups, experts, and Volkswagen designers and engineers. The automaker is in collaboration with groups like the National Federation of the Blind(NFB), Disability Rights Education and Defense Fund (DREDF), and the National Association of the Deaf ( NAD).
Volkswagen will merge what they learn from these groups and use the information to change their future vehicles. The ID.Family is the automaker's newest electric lineup and can receive over-the-air updates which can range from performance to safety features. Volkswagen's newest ID. Family member is the Volkswagen ID.Life and will feature the newest technology on the market. Moving forward to create a vehicle that will adapt and become helpful to many who are in dire need of some help is the automaker's number one priority. Ready to become part of the Volkswagen movement?
Come To Southern Volkswagen To Test-Drive A New Volkswagen Today!
We're all about helping our customers enjoy their shopping experience at Southern Volkswagen. We have a friendly and passionate sales team that will make your buying, leasing or selling needs easy for any of our new vehicle inventory. We're here to help with any financial help, needs or suggestions to help make paying for a vehicle easier. Apply for Auto financing with our assistance right now. Stop by today and see what we can do for you right now at Southern Volkswagen.
Don't forget we have a trained service team that can help with an online appointment to get started on all maintenance work and repairs. We look forward to helping you at Southern Volkswagen.