Christian Pulisic is Named Brand Ambassador of Volkswagen of America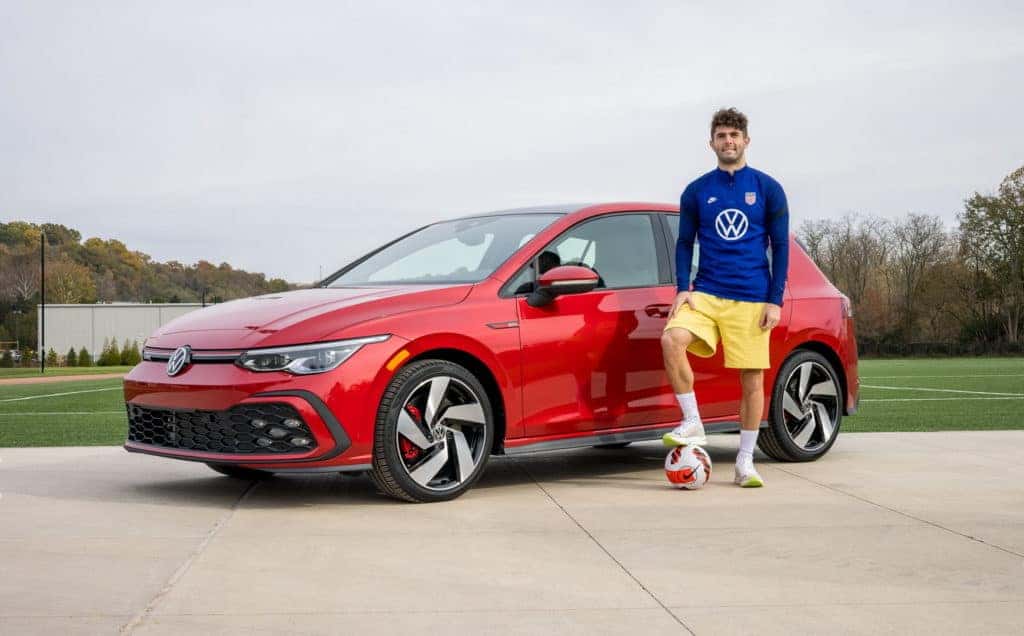 Photo credit: Volkswagen
Volkswagen of America has named U.S Men's National Team player Christian Pulisic as Brand Ambassador. As Ambassador for the brand, Pulisic will help spread the word of his favorite automaker brand. Volkswagen is dedicated to supporting the U.S Men's National Soccer Team and Women's team reaching new audiences across the world. Pulisic has a natural attraction to the brand as Volkswagen has served his family for years, two particular vehicles, the Golf GTI and Tiguan. Here's a bit into the history between Pulisic and Volkswagen.
"We're excited to welcome Christian into the Volkswagen family and continue expanding our relationships with U.S. Soccer team players," said Kimberley Gardiner, Senior Vice President, Marketing, Volkswagen of America. "His community activism and genuine interest in Volkswagen vehicles like the ID.4 and GTI make him a natural fit for our brand and we look forward to working together on some meaningful projects."
At a young age Christian would enjoy rides in the quick and agile Golf GTI which later became  his first car he drove while living in Germany. Moving on Christian pushed his efforts into soccer where he amassed a number of accolades in his professional career representing the United States. As a member of the U.S. In The Men's National Team, Pulisic earned the rare distinction of being the youngest player to represent the USMNT in a World Cup Qualifier. Pulisic didn't stop there, he was also awarded the youngest two-time winner of the U.S Men's Player of the year and youngest captain in the history of the team. Let's take a look at the two vehicles that Christian Pulisic grew up using. 
The Golf-family design formula has been evolving since the first Golf debuted back in March 1974 and today the 2022 Mk8 Golf GTI and Golf R are continuing the evolution of the hottest hatchback ever. The 2022 Golf R trims feature a blue grille line and brake calipers, a new wheel design, more aggressive front and rear bumper diffusers than the GTI, a large two-piece rear spoiler, body-colored side sill extensions, and a quad-tipped exhaust system. The latest EA888 2.0-liter turbocharged direct injection TSI engine is found under the hood and provides the top-of-the-line performance fans crave. Volkswagen adds a new electronic architecture to the Golf, enabling a digitally networked world of displays and controls. Now moving onto a quick look at the 2022 Tiguan.
The 2022 Volkswagen Tiguan will come with four different trim levels, all will come standard with an efficient 2.0-liter TSI turbocharged and direct-injected four-cylinder engine under the hood. Volkswagen offers both front-wheel drive or 4Motion all-wheel drive. The engine is capable of producing 184 horsepower and 221 pound-feet of torque. Front-wheel drive and 4Motion all-wheel drive are available on the first three trims, while the top tier trim features 4Motion as standard. These two vehicles have played a huge part in making many memories for families and for Volkswagen's newest Ambassador. Interested in finding out more about the 2022 Tiguan and 2022 Golf?
Drive New Volkswagen With Our Help At Southern Volkswagen
At Southern Volkswagen, we're more than excited to help our customers and we have the right staff to make it happen. Searching for a new option to buy or lease? Take a look at our new vehicle inventory or our quality pre-owned vehicles. We can help sell your current vehicle or bring it back to life like new with an online appointment to our service center. Allow our professional techs to get started on all repairs or maintenance work.
We're here to help with any financial help, needs or suggestions to help make paying for a vehicle easier. Reach out to us and see what we can do for you today at Southern Volkswagen.