Chattanooga Football Club And Volkswagen Host Youth Soccer Clinic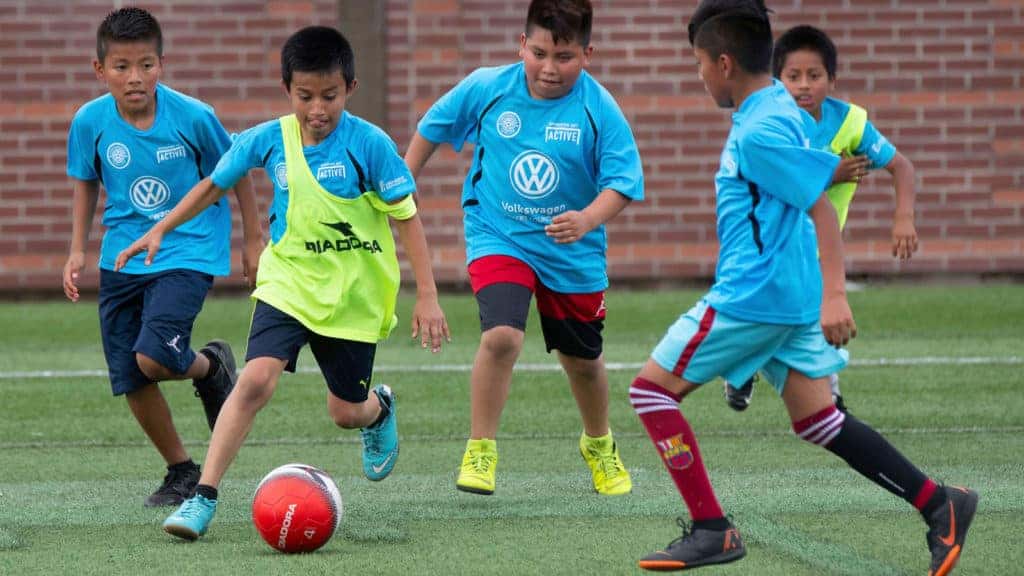 Photo credit: Volkswagen 
Volkswagen and Chattanooga Football Club hosted two soccer clinics for the Chattanooga community on August 20, 2022. The event took place at Finley Stadium with U.S. men's national soccer team legend Clint Dempsey and U.S. women's national soccer team player Lynn Williams. Chattanooga Mayor Tim Kelly cheered on the children as they participated in various events and activities. Over 200 children between the ages of 10 and 14 were invited to the stadium to participate in all the fun. Clint and Lynn teamed up with  CFC coaches to host two free sessions where the children had the chance to meet and personally train with the soccer all-stars. 
"What a pleasure to work with a great group of kids and two amazing organizations in Chattanooga," said Clint Dempsey. Lynn Williams added, "It was a great day to be with our community, 'electrify soccer' and just have fun."
Thanks to the 13-year relationship between Volkswagen and CFC, the event was able to take place. The VW logo is found on all jerseys being an official sponsor and partner of CFC last year. Thanks to VW's help, CFC added a women's team that was able to rejoin the Women's Premier Soccer League for the 2022 season. This partnership focuses on three important goals: electrifying soccer, diversity and sustainability.  
"The commitment VW has shown to this community is simply amazing. The opportunity to attend the clinic last weekend and meet Clint Dempsey and Lynn Williams is something these kids will never forget. CFC and VW committed to 'Electrify Soccer' here in 2022 and events like this show how real that commitment is. We are excited to leverage events like this to inspire and educate our community and our kids for the future," said Jeremy Alumbaugh, executive director of Chattanooga Football Club. 
After the soccer clinic, fans were welcomed to the stadium to cheer on CFC at their 7:30 p.m. game. Every clinic participant and their families, employees, Volkswagen executives, and other members of the Chattanooga community attended the game. The first 950 people who entered received Volkswagen bags and the mayor kicked off the game by flipping a coin and handing the ball to CFC first, ultimately ending in a 0-0 tie.
"Volkswagen is extremely proud to work with Chattanooga Football Club (CFC) and US Soccer. Events like this remind us why community is so important. It was great to have so many kids and families come together and show their support," said Andrew Savvas, executive vice president, chief sales and marketing officer of Volkswagen NAR.
Due to the Volkswagen Plant and CFC partnership it was a great opportunity to reach out to the local Chattanooga community and provide an exclusive experience for kids who otherwise wouldn't have had the opportunity like this. Volkswagen continues to make the community its number one priority as it aims at a cleaner future with its electric plans. Volkswagen's ID.Family adds a fully electric vehicle in almost every segment. The popular 2022 ID.4 has taken the market by storm offering the latest features and performance. Interested in finding out more about the Volkswagen ID.Family?
Come To Southern Volkswagen To Test-Drive A New Volkswagen Today!
Are you excited about getting a new car? So are we! At Southern Volkswagen, we're more than excited to help our customers, we're thrilled. Looking for a new option to buy or lease? Take a look at our new vehicle inventory or our quality pre-owned vehicles. We can help sell your current vehicle or bring it back to life like new with an online appointment at our service center. Allow our professional techs to get started on all repairs or maintenance work. 
Looking for options with any financial help, needs, or suggestions to help make paying for a vehicle easier? Apply for Auto financing. Stop by today and see what we can do for you at Southern Volkswagen right now.