What All Buyers Should Know About Electric Vehicle Charging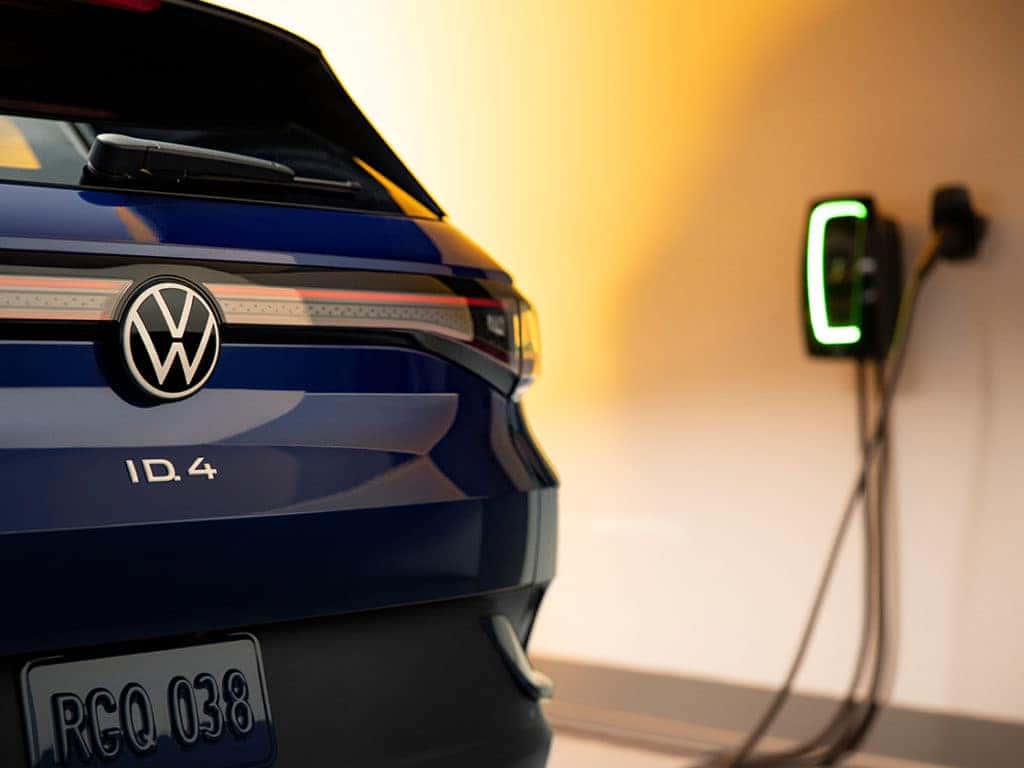 Photo credit: Volkswagen
For customers, the thought of wrapping their heads around the variables of electric vehicle charging can be overwhelming. Although to understand requires a new mindset on how it is the owner's vehicle charges, receives the energy, and how it distributes energy. Volkswagen offers a few options for different chargers which requires two types of voltage levels to better suit owner necessities. The new 2021 Volkswagen ID.4 comes with both AC (alternating current) and DC (direct current) Fast-charging capability. Let's get into how this differs from other EV chargers.
Modern EV Charging Technology
Unlike AC chargers, a DC charger has the converter inside the charger itself. That means it can feed power directly to the car's battery and doesn't need the onboard charger to convert it. DC chargers are bigger, faster, and an exciting breakthrough when it comes to electric vehicles. The ID.4 will come standard with a level 1 charger which is best used for occasional or last-minute charging. Most ID.4 owners will consider upgrading to a level 2 charger due to both the difference in the amount of energy it can deliver and the amount of time it takes to charge, although not all-electric vehicles can take as much energy as level 2 can deliver. The speediest recharge for the ID.4 is the Level 3 DC fast charger, the reason being that it can charge from 5% to 80% battery life in just 38 minutes. Now, let's break the levels down and really begin to understand how they work.
Things To Consider With the ID.4
As we discussed before, the ID.4 comes standard with a level 1 charger which is a 120-volt plug commonly used for most household outlets with a three-prong plug. Unfortunately, the energy distribution from a 120-volt plug is comparable to filling up a pool through a straw. For example, Level 1 home charging simply won't work for anyone who drives long distances regularly and doesn't have the time or opportunity to recharge their cars during the day.  Electric vehicles can get roughly 2-5 miles of range per hour of charging, estimated to go from 0-100% in 50 hours of charging in level 1. Upgrading to level 2 charging stations becomes a necessity at that rate. More so because the ID.4  is fully electric with a 205 Mile battery, and not having access to any public charging stations in the vicinity can lead to a complete shutdown. Leaving level 1 to be more fit for someone who works from home and doesn't plan to be driving for long periods at a time or long distance.
Level 2 home charging stations use a higher-output 240-volt power source like the one owners plug their oven or dryer into. Charging times change drastically, going from 0-100% in 7.5 hours according to the EPA. The amperage rating ranges from 12 amps to 80 amp.
Using a level 2 charger on their ID.4 adds approximately 33 miles of range per hour, making level 2 the most common charger being used for household charging. Level 3 is a DC fast charger, being able to juice up their ID.4 from 5% to 80% in 38 minutes. Due to the way a DC charger works, the last 20% of charging takes much longer than the first 80%, slowing down to about the same speed as a level two charger. That's why level 3 chargers measure charge rates by how quickly they get to 80%. Volkswagen offers 3 years of free fast-charging courtesy of its Electrify America electric vehicle charging subsidiary.
Volkswagen ID. 4 Charge Time
Level 1 (120V outlet) – 0-100% estimated 50 hours*

Level 2 (240V outlet) – 0-100% EPA-estimated 7.5 hours.

Level 3 (DC fast

charging

) – 0-80% EPA-estimated at 38 minutes.
Come Find the VW That You've Always Wanted
Are you excited about getting a new car? So are we! At Southern Volkswagen we're more than excited to help our customers, we're thrilled. Looking for a new option to buy or lease? Take a look at our new vehicle inventory or our quality pre-owned vehicles. We can help sell your current vehicle or bring it back to life like new with an online service appointment at our service center. Allow our professional techs to get started on all repairs or maintenance work.
We're here to help with any financial needs, questions, or suggestions to help make paying for a vehicle easier. Stop by today and see what we can do for you right now.