Volkswagen's Largest Solar Facility Also Employs A Herd of Sheep With An Important Job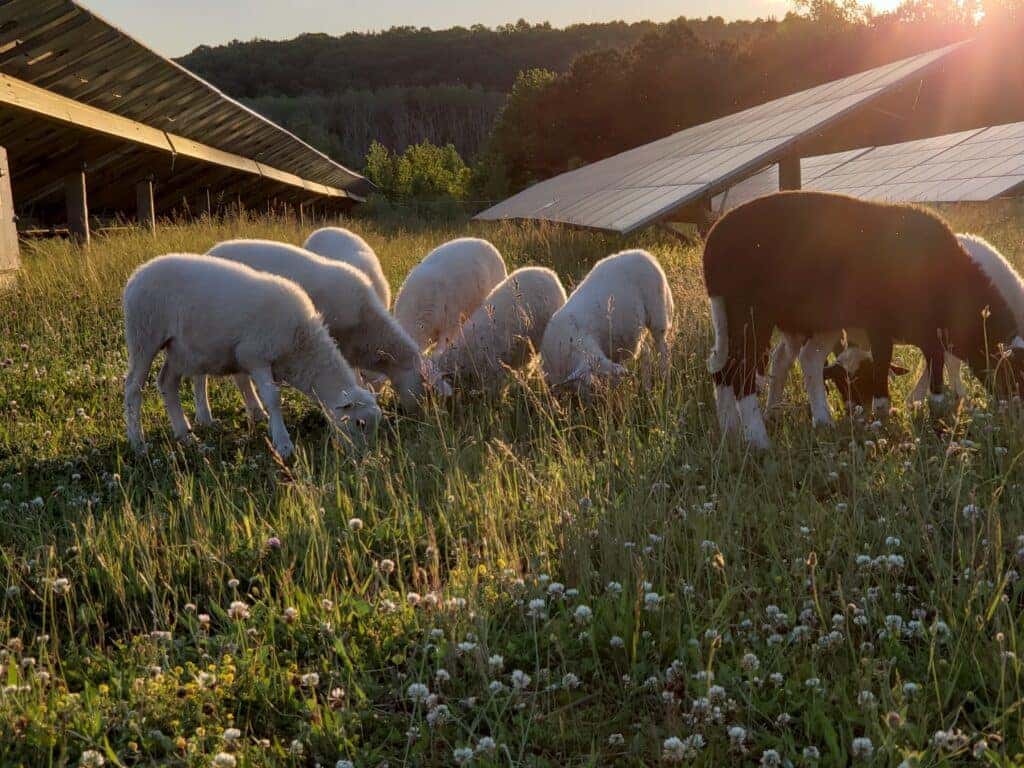 Photo credit: Volkswagen
Volkswagen's largest solar facility has been creating jobs in the region for more than a decade. Currently employing over 4,000 workers, the facility also employs a herd of about 50 sheep who are a critical part of Chattanooga's solar operation. The facility was built in 2013, as a 9.5-megawatt solar system with 33,600 solar modules spread over 33 acres next to the Volkswagen factory. A Nashville-based Silicon Ranch Corp. manages the large solar facility in addition to many other energy projects across the country. The corporation has about 6,000 acres beneath their solar panels nationwide that provide a home to the herd of sheep.
"Adaptive grazing with sheep is an efficient and cost-effective way to control vegetation and minimize erosion risks on utility-scale solar facilities. The sheep keep the grasses low via grazing and trampling and the solar panels provide sheep with shade, minimizing heat stress in the height of summer. Regeneratively grazing sheep can help provide important ecological benefits, as well as a secondary and stable source of income for our farming partner." said Loran Shallenberger, Silicon Ranch Regenerative Energy Project Manager.
The herd of sheep carries responsibilities like creating a cost-effective way to control vegetation. Keeping the grass low helps keep the solar panels clear while providing shade for the herd during the high heat rays. A huge problem for solar panels is erosion due to poor maintenance of the land, solar panels need a solid ground to work efficiently. The herd of sheep is free to travel around 4 different tracks of the solar farm and enjoy their safe home. The first choice was to have some goats instead but unfortunately, they like to jump and bite through cables while sheep rather nibble on grass and relax in their dedicated area. The herd is now part of the Volkswagen movement and as the automaker creates more solar panel facilities, more sheep will join also.  
The facility has also been awarded many awards as a result of its extreme environmental compatibility at the plant. In December 2011, Volkswagen was the first automaker in the world to receive the LEED (Leadership in Energy and Environmental Design) Platinum certification. The facility is currently undergoing an expansion to accommodate Volkswagen's highly anticipated electric family vehicle lineup, adding the latest technology to help prep assembly lines. The Chattanooga Assembly Plant currently has an estimated unit production of about 150,000 Volkswagen vehicles. Interested in finding out more about Volkswagen's future plans to keep the environment as safe as possible?
Drive New Volkswagen With Our Help At Southern Volkswagen
At Southern Volkswagen, we're more than excited to help our customers and we have the right staff to make it happen. Searching for a new option to buy or lease? Take a look at our new vehicle inventory or our quality pre-owned vehicles. We can help sell your current vehicle or bring it back to life like new with an online appointment to our service center. Allow our professional techs to get started on all repairs or maintenance work.
We're here to help with any financial help, needs or suggestions to help make paying for a vehicle easier. Reach out to us and see what we can do for you today at Southern Volkswagen.