Volkswagen's ID.4 Electric Vehicle USA Tour Reaches The West Coast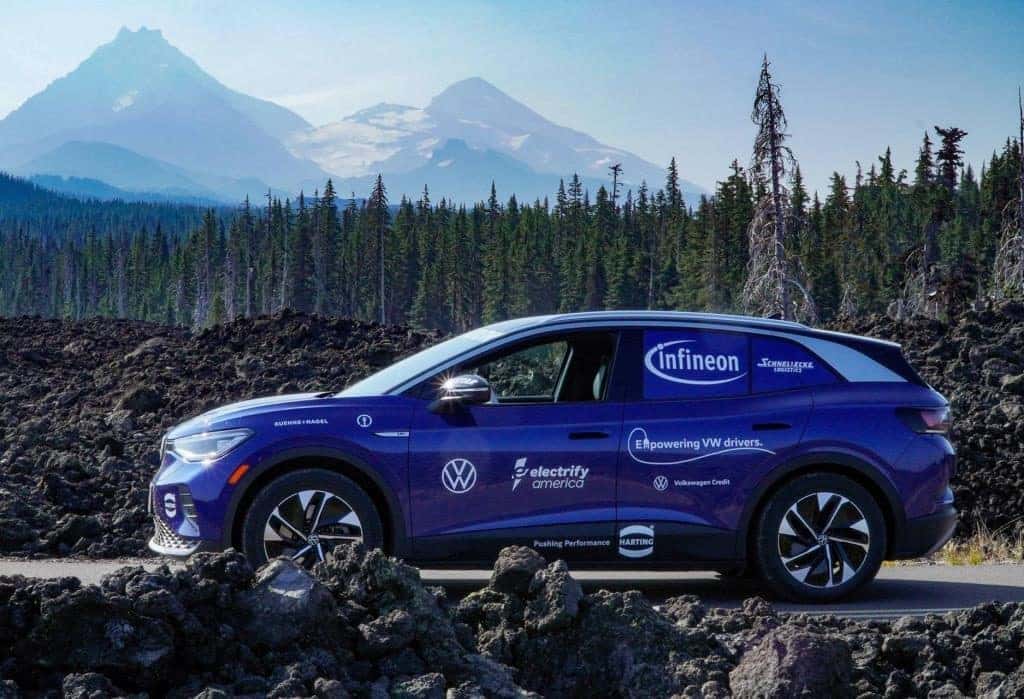 Photo credit: Volkswagen
Back in July 2021, world record long-distance driver Rainer Zietlow set off to take a road trip with Volkswagen's newest electric 2021 ID.4 SUV. The trip was set to take almost 100 days and Rainer wanted to prove just how easy it is to drive across the country in a 2021 Volkswagen ID.4. Rainer will Partner up with a cameraman Derek Collins, the two have been traveling the country by visiting various Volkswagen dealerships while using the Electrify America DC fast-charging network. Volkswagen has charging stations all across the nation comprising over 650 charging stations and more than 2,600 individual DC fast chargers. The Volkswagen ID.4 USA Tour made a stop to visit the award-winning team at Herman Cook Volkswagen.
The tour started in Herndon, VA with a goal set out to visit more than 600 Volkswagen Dealers in 48 states with Volkswagen's first long-range electric vehicle. Rainer has already driven 22,303 miles across 36 states and has visited 418 dealers on his way. The journey continues for the two along the southern half of the U.S. making their way back to the east coast. Rainer and Collins have made the time to stop by six Volkswagen Group of America offices to meet employees and share tales of their adventure. Rainer has made many trips before, but this one, in particular, marks the first trip with an electric vehicle.
The tour has taken the pair through the streets of New York City, the cornfields of the Midwest, the volcanic rock landscapes in Oregon, and several other states along the way. Additionally, the pair visited several classic American destinations such as vintage diners, neon signs, and iconic statues. With the help of Electrify America, the Volkswagen ID.4 tour had made 116 stops at charging stations by the time they reached the turnaround point. Electrify America expects to have more than 1,800 total charging stations with over 10,000 chargers in the United States and Canada by the end of 2025. The total number of chargers right now is at 650 so Electrify America has their work cut out for them.
The journey continues on the way back to the east coast, fans will be able to watch the event live at vwid4-usatour.com. Visitors to the website will be able to monitor the location of the ID.4 in real-time. The 2021 Volkswagen ID.4 features a rear-mounted electric motor that pushes power through the rear wheels to produce 201 horsepower, an available all-wheel-drive trim that pushes performance to the top. The all-wheel-drive trims electric motors produce 295 horsepower and 229 lb-ft of torque. The ID.4 runs on a 77 kWh battery pack that extends a range of 260 miles. Packed with the latest safety features and innovative technology, the 2021 ID.4 is the perfect electric vehicle. Want to find out more about the 2021 Volkswagen ID.4?
Come To Southern Volkswagen To Test-Drive A New Volkswagen Today!
Are you excited about getting a new car? So are we! At Southern Volkswagen, we're more than excited to help our customers, we're thrilled. Looking for a new option to buy or lease? Take a look at our new vehicle inventory or our quality pre-owned vehicles. We can help sell your current vehicle or bring it back to life like new with an online appointment at our service center. Allow our professional techs to get started on all repairs or maintenance work.
Looking for options with any financial help, needs, or suggestions to help make paying for a vehicle easier? Apply for Auto financing. Stop by today and see what we can do for you at Southern Volkswagen right now.