Volkswagen Unveiled The Atlas Cross Sport GT Concept With A Low Ride and More Power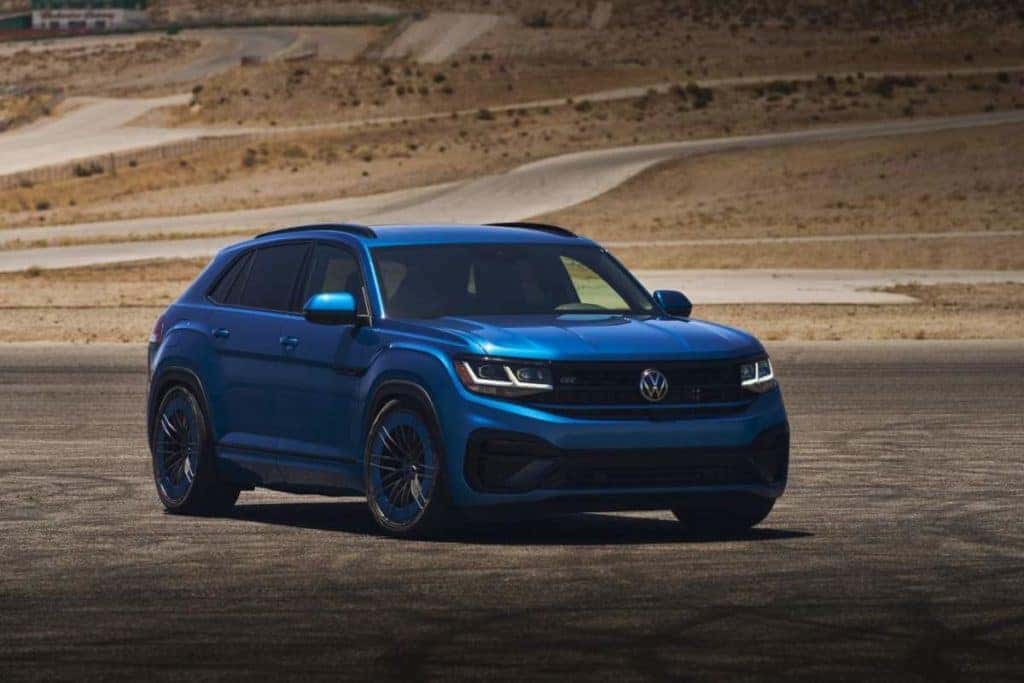 Photo credit: Volkswagen
Volkswagen has crafted a performance-oriented version of its coupe-SUV, adding a turbo-charged engine and high-performance suspension kit. The 2021 Atlas Cross Sport GT concept combines fresh styling updates and unique color options. A modified 2.0-liter TSI engine, lowered suspension, and custom wheels build the sporty concept thanks to the Chattanooga-assembled midsize SUV. Inspired by the release of the Golf R which will continue the legacy of the hottest hatchback ever.
"The launch of the all-new Golf GTI and Golf R got us thinking about how to inject some of that VW magic into our SUVs," said Scott Keogh, CEO, Volkswagen Group of America. "This concept is proof that it's possible to build SUVs that could appeal to our performance enthusiast base."
The Volkswagen Atlas Cross Sport ditches the third row that's found inside of the standard Atlas in favor of a more coupe-like roofline. The vehicle was modified by Volkswagen enthusiast Jamie Orr, who has built a career around cars. The performance-enhanced SUV concept features a four-seat configuration matched with striking blue color Eisvogelblau, translating to "Kingfisher Blue " which is currently available on select Volkswagen products in Europe. The current concept was hand-painted by the Chattanooga production team. Using a 2021 Atlas Cross Sport SEL Premium R-Line as its base, the GT concept took a few months to create and comes with a long list of unique touches.
The build contains 22-inch ABT Sport HR AEROWHEELs, wrapped in Yokohama Advan Sport V105 UHP 285/35R22 tires; ST Suspension XTA Plus 3 coilovers with color-matched and GT Concept -branded springs; TAROX eight-piston front brakes; and concept gloss black exterior trim replaces the existing chrome finishes. That's not all, custom GT badging is integrated throughout the vehicle. Under the hood is a version of the EA888 2.0 TSI engine found in the Volkswagen Golf R, with an IS38 turbo and an extra front-mounted radiator from a Mk7 Golf R. It generates more than 300 horsepower. A seven-speed DSG® automatic transmission was paired with the standard 4Motion® all-wheel-drive system to handle the extra power. Let's take a look at what the 2021 Atlas has to offer for buyers.
The current 2021 Volkswagen Atlas offers a refreshed seven-seater that comes with a new bold design and facelift. Assembled in Chattanooga Facility, the Atlas is catered to the North American market combining driving dynamics and attention to detail, and top-of-the-line safety features keeping the mind at ease. With the latest in driver assistance technology, the 2021 Atlas is one of the most popular SUVs. The Atlas is powered by a direct-injection, 2.0L Turbo 4V TFSI R4 engine delivering 235 horsepower and 258 lb-ft of torque. An available upgrade to a 3.6-liter VR6 FSI engine that produces 276 horsepower and 266 lb-ft of instant torque is available. Both these engines are mated to an eight-speed automatic Interested in finding out more about the 2021 Volkswagen Atlas?
Drive New Volkswagen With Our Help
At Southern Volkswagen, we're more than excited to help our customers and we have the right staff to make it happen. Searching for a new option to buy or lease? Take a look at our new vehicle inventory or our quality pre-owned vehicles. We can help sell your current vehicle or bring it back to life like new with an online appointment to our service center. Allow our professional techs to get started on all repairs or maintenance work.
We're here to help with any financial help, needs or suggestions to help make paying for a vehicle easier. Reach out to us and see what we can do for you today at Southern Volkswagen.