Volkswagen Plans on Huge Sales Growth in the US With The 2024 ID. Buzz Microbus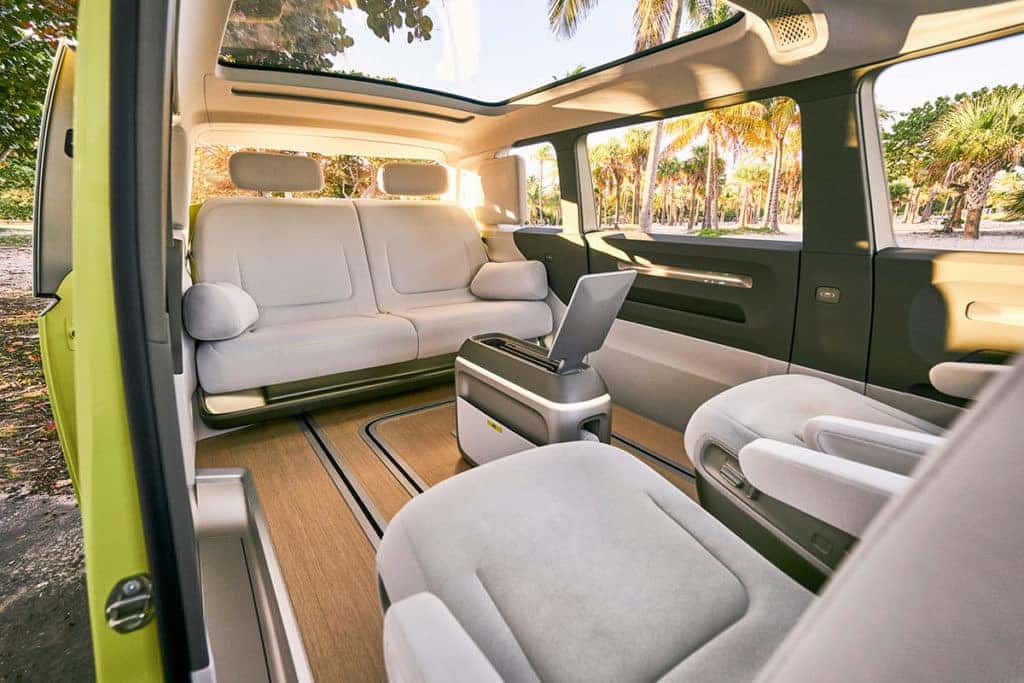 Photo credit: Volkswagen
Volkswagen Group has high hopes of doubling its market share in the United States by 2030. The German automaker is confident that the arrival of the 2024 ID.Buzz Microbus will help skyrocket sales. The 2024 ID.Buzz Microbus will finally make its return in a newer innovative fashion. The groovy Microbus holds its retro-style looks while obtaining all-new features inside and out. The ID.Buzz is even being considered to begin working among the workforce using an all-new self-driving system that will allow it to drive on its own without restrictions. Let's dig a bit deeper into the vehicle Volkswagen believes will not only boost its sales but change the world at the same time.
The fully-electric "Love Bus" is set to be manufactured in the Volkswagen Group's plant located in Hanover, Germany. The unique layout inside the Microbus is nothing like the conventional SUV, allowing both driver and passenger chairs to completely turn around and face the back seat drivers creating a lounge area. The seats create endless options, allowing buyers to control how they will set up their microbus. All seats can be removed to open up as much extra cargo space as needed. Volkswagen is set to offer two different options when it comes to battery options for the 2024 ID.Buzz, the first is a 48 kWh battery that will deliver 200 miles of range and come standard on all entry-level trims. For buyers looking to upgrade to a battery that's packing more juice the available 110 kWh that increases the range to an impressive 340 miles range. 
Volkswagen is also developing a 2024 ID.Buzz Microbus with Argo Ai, an autonomous vehicle start-up located in Pittsburgh backed by the German automaker and the Ford Motor company. As part of their cooperation, Ford Motor Company and Volkswagen Commercial Vehicles have invested equally into Argo AI, which specializes in software platforms for autonomous driving. The initial investment of one billion US dollars wasn't all Volkswagen brought to the table, in addition, the automaker brought its AID ( Autonomous Intelligent Driving) into Argo AI to help however they can in the process. With both companies invested, VWCV continues the process to develop and build Special Purpose Vehicles (SPV), including Robo-taxis and vans for delivering goods. The vision is clear, and Volkswagen knows they have struck gold with the return of the Microbus.         
Drive New Volkswagen With Our Help
At Southern Volkswagen, we're more than excited to help our customers and we have the right staff to make it happen. Searching for a new option to buy or lease? Take a look at our new vehicle inventory or our quality pre-owned vehicles. We can help sell your current vehicle or bring it back to life like new with an online appointment to our service center. Allow our professional techs to get started on all repairs or maintenance work.
We're here to help with any financial help, needs or suggestions to help make paying for a vehicle easier. Reach out to us and see what we can do for you today at Southern Volkswagen.