Volkswagen Announces The 2021.5 Atlas With A New Infotainment System And Driver-Assistance Features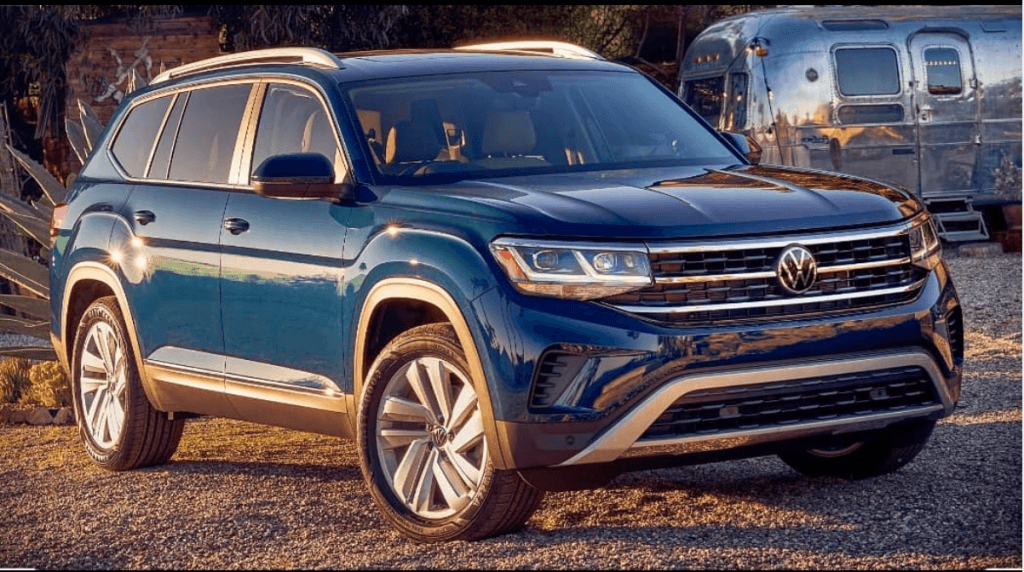 Photo credit: Volkswagen
The 2021.5 Volkswagen Atlas is now available, yes you read that right, 2021.5 meaning a mid-year upgrade is now available. Although the 2021 Atlas has received a fresh exterior and interior, Volkswagen has now provided additional safety and technology features only available on the 2021.5 Atlas. In addition to the new features, Volkswagen also introduces the available all-wheel-drive option for all trim levels for the first time and a new turbocharged engine option for top-tier trims. The 2021.5 seven-seater SUV is assembled in Chattanooga, Tennessee, and has a starting MSRP of $31,555 (Plus destination fee), and continues to be awarded Family Car of the year for the second year in a row. Now, let's take a look at the new mid-year upgrades offer.
"The Atlas has been a huge success story for Volkswagen of America, helping us to position the brand with a greater emphasis on the family-friendly SUVs that consumers are buying. This refreshed model brings all the functionality of the previous model, and ups the ante with new technology and more style," said Scott Keogh, president, and CEO of Volkswagen Group of America
The 2021 Volkswagen Atlas
The 2021 Volkswagen Atlas was introduced earlier this year with an all-new refreshed front and rear fascia, restyled to emphasize the sporty linear design of the Atlas. The 2021 Volkswagen Atlas is offered in eight different trim levels all coming with more add-ons as buyers upgrade, and offers two different engine options for buyers to choose from. The first being a 2.0-liter eight-speed Auto engine that is capable of producing 235 horsepower and 258 lb-ft of torque, the second is a 3.6L V6 eight-speed auto that produces 276 horsepower and 266 lb-ft of torque. All trims offer the available upgrade to a 4MOTION all-wheel drive but come standard in rear-wheel drive. As for entertainment, the 2021 Atlas base trims come with a 6.5-inch MIB3 touchscreen infotainment system with Apple CarPlay and Android Auto Capability, although higher trims come with an 8.0-inch touchscreen.
The 2021.5 Volkswagen Atlas Upgrades
The 2021.5 Volkswagen Atlas comes with a few more updates than the 2021 model year Atlas, including an all-new next-generation MIB3 infotainment system. That's not all, Volkswagen has made this mid-year upgrade also due to the new driver-assistance features available like Travel Assist and Emergency Assist. Travel Assist combines adaptive cruise control and lane-keep assist together in order to control the accelerator, brake, and steering independent from the driver. Emergency Assist is capable of sensing to detect no steering, braking, or acceleration activity from the driver and brakes the vehicle continuously to a standstill. The next-generation MIB3 infotainment system with wireless App-connect and compatible multi-phone pairing is standard on SE trims and forward. Many improvements to the infotainment system have been made including voice command functions, enhancements to the in-dash navigation system which includes reworked maps and routing options. Interested in test driving a 2021.5 Volkswagen Atlas?
Drive New and Pre-Owned From Southern Volkswagen
We're all about helping our customers enjoy their shopping experience at Southern Volkswagen. We have a friendly and passionate sales team that will make your buying, leasing or selling needs easy for any of our new vehicle inventory. We're here to help with any financial help, needs or suggestions to help make paying for a vehicle easier. Apply for Auto financing with our assistance right now. Stop by today and see what we can do for you right now at Southern Chrysler Jeep – Greenbrier.
Don't forget we have a trained service team that can help with an online appointment to get started on all maintenance work and repairs. We look forward to helping you at Southern Volkswagen.