Volkswagen's All-New 2022 Atlas Cross Sport Is Stunning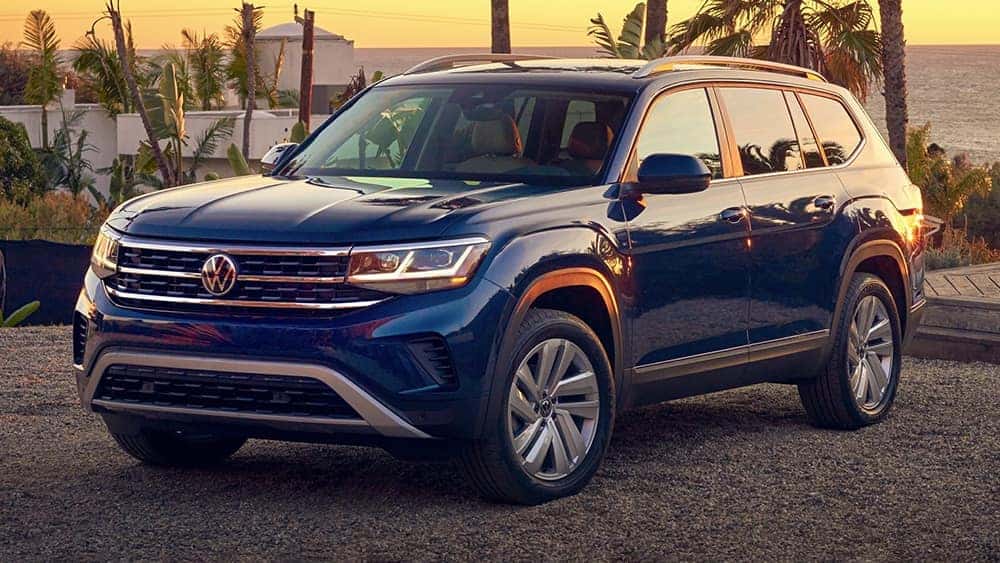 Photo credit: Volkswagen
The Atlas is back again! This time with a new sleek roof and changes to the interior of the popular SUV. The 2022 Volkswagen Atlas Cross Sport enters the new year with a major change from SUV to a coupe. Volkswagen changes the game up a bit, usually, when a manufacturer turns an SUV into a coupe it sacrifices cargo area but the Cross Sport avoids losing space and in fact offers more space than ever before. A standard turbo-charged four-cylinder engine comes under the hood of base trims but Volkswagen offers available upgrade options. Let's take a look at what the German automaker has in store for the 2022 Atlas Cross Sport.
Beginning with the interior, Volkswagen updates the steering wheel and adds stitched door panels. Unlike the original Atlas, the Cross Sport offers a second-row to allow for the vehicle's semi compact size. A touchscreen infotainment display provides drivers and passengers with both Apple CarPlay and Android Auto integrations. The 2022 Atlas Cross Sport includes a reconfigurable digital gauge display as standard on all trims. Volkswagen offers the available Navigation as an optional add-on as well as SiriusXM satellite radio. Packing the coupe with the latest technology Volkswagen has to offer.
Moving onto the performance side of the 2022 Atlas Cross Sport, buyers will find two options when it comes to powertrains. The first option is the 2.0-liter that is capable of generating 235 horsepower. The second option is a 3.6-liter V-6 delivering a 7.5-second 60mph time, delivering sporty driving dynamics. Knowing that the Atlas name brings a sense of family vehicle, Volkswagen equips Cross Sport with automated emergency braking and blind-spot monitoring, buyers looking for more safety features will have to go with higher trim levels that include advanced driver-assistance features. Let's take a quick look at the 2021 Volkswagen Atlas.
The 2021 Volkswagen Atlas offers a refreshed seven-seater that comes with a new bold design and facelift. Assembled in Chattanooga, Tennessee, the Atlas combines driving dynamics and attention to detail to keep all seven passengers comfortable. With the latest in driver assistance technology, Volkswagen offers eight different trims for the 2021 model year and two options when it comes to engines. The 2021 Atlas has a family-friendly interior space, highlighting new technology features such as the CarNet telematics system which is a mobile app that gives buyers command of their car at a click of a button. Interested in finding out more about Volkswagen's Newest vehicles?
Come To Southern Volkswagen To Test-Drive A New Volkswagen Today!
We're all about helping our customers enjoy their shopping experience at Southern Volkswagen. We have a friendly and passionate sales team that will make your buying, leasing or selling needs easy for any of our new vehicle inventory. We're here to help with any financial help, needs or suggestions to help make paying for a vehicle easier. Apply for Auto financing with our assistance right now. Stop by today and see what we can do for you at Southern Volkswagen.
Don't forget we have a trained service team that can help with an online appointment to get started on all maintenance work and repairs. We look forward to helping you at Southern Volkswagen.