Volkswagen Stepping Towards Producing Its Own Battery Cells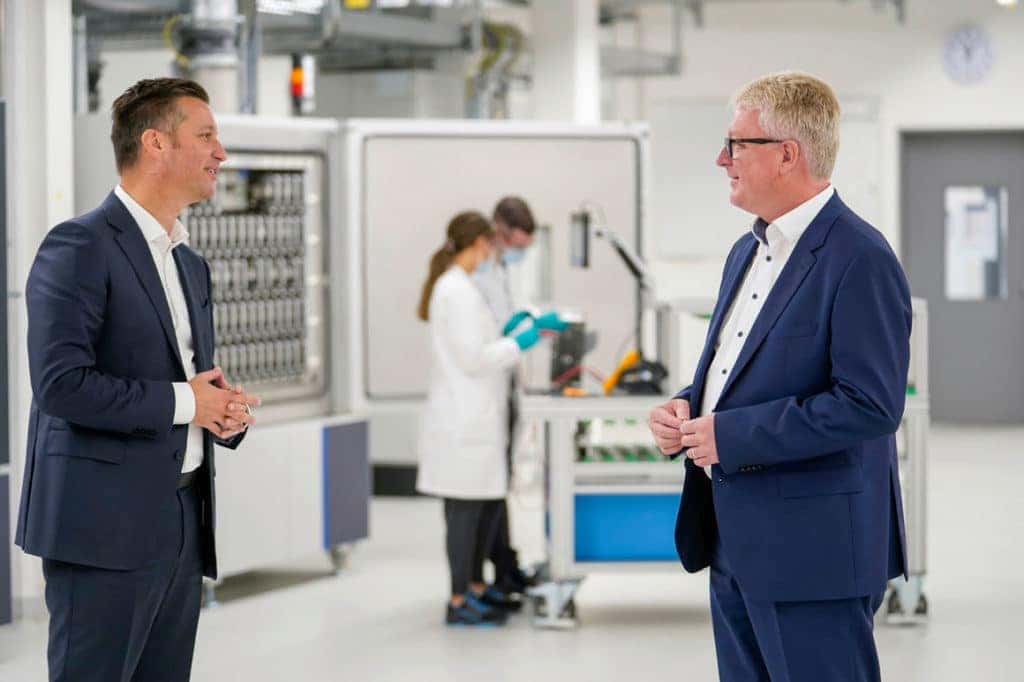 Photo credit: Volkswagen
Volkswagen Group Components have recently opened one of the most modern laboratories for battery research and development. The new lab is located in Europe, in Salzgitter to be more exact. The German automaker has been further expanding its expertise in the battery technology department. Volkswagen takes the next step towards developing and producing its very own battery cells for electromobility. Starting in 2025, Volkswagen's unified cell is scheduled to come off the production line in Salzgitter, the factory has been a huge success for Volkswagen.
The company plans on ending the era of relying on other manufacturers for key components instruments for Volkswagen vehicles. Due to the global pandemic of Covid-19 many components have been unavailable or maintain constant back order. The pandemic set the world into a complete freeze turning all companies that work together to lose schedule caused by the different restriction on reopening factories. Volkswagen first made the announcements of pursuing the road to build its own semiconductor chip instead of waiting for the world to go back to what is considered normal. Now, the automaker will build its very own battery cell ending the need to outsource for supply.
"With the new, state-of-the-art laboratories, we are further expanding our development, process and production expertise for the battery cell – the heart of the battery electric vehicle. Volkswagen's Salzgitter site demonstrates how the transformation of the German automotive industry from conventional drive systems to e-mobility can succeed. We are attracting cutting-edge researchers and, as a pioneer in the industry, create the jobs of tomorrow," says Thomas Schmall, Group Board Member for Technology at Volkswagen AG and Chairman of the Board of Management of Volkswagen Group Components, who is responsible for the Battery and Charging Technology Roadmap across all brands in the Group.
The new unified cell introduced for mass-production is scheduled to roll off the production line at the Gigafactory in Salzgitter starting in 2025. Volkswagen has set out to build and operate six cell factories in Europe together with partners. The cells will have a production capacity of 240 GWh, the production of cells with an annual capacity of 40 GWh will be produced in Salzgitter also. The new unified cell will unlock synergies and help reduce battery costs by up to 50%. For decades the Volkswagen plant in Salzgitter has supplied millions of vehicles with engines, with the increase of electrification has pushed for the talk about converting into a battery plant in order to adapt with times.
The facility in Salzgitter has been responsible for Group-wide material testing, release testing, quality assurance, and series monitoring of cells for electric car batteries. The new laboratories will enable extensive cell testing programs with up to 200 different analytical methods. In addition, the development of new formulations on an initial area of 2,599 square meters. Using cutting-edge technology located at Salzgitter, like one of the world's few scanning electron microscopes for detecting lithium. Volkswagen is moving in the right direction to offer not only the latest technology at the best price due to moving into manufacturing more of its key components. Ready to join the Volkswagen movement?
Drive New Volkswagen With Our Help At Southern Volkswagen
At Southern Volkswagen, we're more than excited to help our customers and we have the right staff to make it happen. Searching for a new option to buy or lease? Take a look at our new vehicle inventory or our quality pre-owned vehicles. We can help sell your current vehicle or bring it back to life like new with an online appointment to our service center. Allow our professional techs to get started on all repairs or maintenance work.
We're here to help with any financial help, needs or suggestions to help make paying for a vehicle easier. Reach out to us and see what we can do for you today at Southern Volkswagen.