Volkswagen Plans For A Fully Autonomous ID.Buzz Ambulance Set To Debut 2025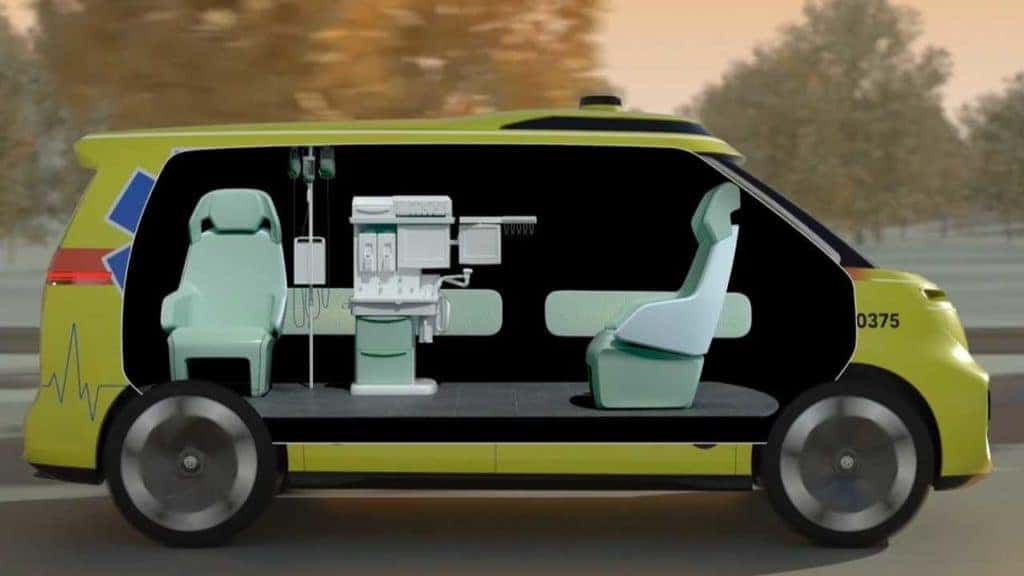 Photo credit: Volkswagen
Volkswagen has been busy working on several different plans for its electric lineup the ID.Family. The automaker recently announced its intention to create an ambulance version of its 2024 ID. Buzz. The fully electric microbus will finally go from concept to a mass production model next year and go on sale in the United States towards the middle of 2023. Volkswagen has major plans for the highly anticipated ID. Buzz microbus, the ID. Buzz is set to become a self-driving taxi service, a self-driving ambulance, and eventually move into helping the workforce deliver goods with no need of a driver. Volkswagen partners up with Argo AI self-driving system to create routes for its autonomous vehicles.
"As designers, we're the people who think up these new living environments. To really get inside the head of somebody in the future and to offer them different things, to analyze their needs and different use cases, and then to define a vehicle from the basic requirements. That's what design of the future has to do," Albert Kirzinger, VW Commercial Vehicles design boss
Argo Ai is an independent company that builds software, hardware, maps, and cloud-support infrastructure to power self-driving vehicles. Basically, Argo AI is at the top of the food chain when it comes to pushing the boundaries of autonomous driving. Volkswagen's commercial vehicle division is proud of the seating design that has plenty of ways of being positioned in order to cater to any buyer's needs. Not only are the seats adjustable, they are also upholstered with animal-free material that will be easy to clean and provide a high level of comfort. The new idea for a self-driving ambulance will change the world of emergencies for the better.
Although the vehicle will be self-driving with no need for human presence, the ID. Buzz "Ambulance" will have medical staff traveling at all times inside the vehicle ready to handle any situation that comes its way on the ride towards the nearest hospital. The 2024 ID. Buzz will come with two different battery options once it rolls into dealerships. The first of those will be a 48 kWh battery that will be able to deliver up to 200 miles range, the second is an available 110 kWh battery that will push the range up to 340 miles range per charge. Now, while the world of autonomous vehicles is at the beginning stages, Volkswagen wants its buyers to understand the five levels of autonomous driving
The 2024 ID. Buzz will feature Volkswagen's Modular Electric Drive (MEB) platform that currently underpins many other electric vehicles. The microbus stretches almost five meters long, and the base model will come in rear-wheel drive and will be powered by an all-electric powertrain. Volkswagen only hopes to use its vehicles in the most efficient ways possible, and an ambulance could change the way our nation's and world's emergency rooms work. Saving time and focusing on the patient can be the difference between saving a life and losing one. The German automaker is already preparing for the future, stating its goals to convert its sales to fully electric and become carbon-neutral. Ready to join the electric movement?
Come To Southern Volkswagen To Test-Drive A New Volkswagen Today!
Are you excited about getting a new car? So are we! At Southern Volkswagen, we're more than excited to help our customers, we're thrilled. Looking for a new option to buy or lease? Take a look at our new vehicle inventory or our quality pre-owned vehicles. We can help sell your current vehicle or bring it back to life like new with an online appointment at our service center. Allow our professional techs to get started on all repairs or maintenance work.
Looking for options with any financial help, needs, or suggestions to help make paying for a vehicle easier? Apply for Auto financing. Stop by today and see what we can do for you at Southern Volkswagen right now.