Volkswagen Group of America And Redwood Materials To Stratagize on Future Battery Recycling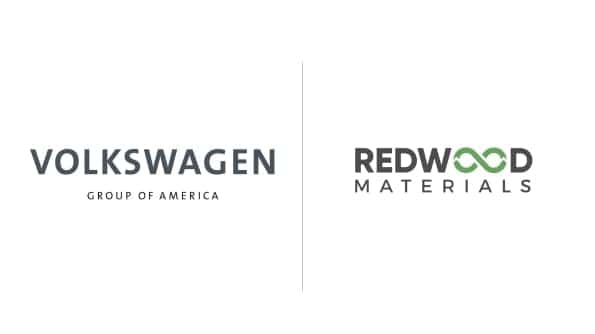 Photo credit: Volkswagen
Volkswagen and Redwood Materials join forces to create a supply chain for the recycling of electric car batteries. The big plans will bring more affordable and sustainable electric mobility to drivers in the United States. The joint collaboration is akey step for the growth of electric vehicles to further Volkswagen Group of America's strategy of finding its core competencies to achieve a breakthrough in its electric transformation and fulfill Redwood's goal of creating the nation's only closed-loop supply chain. 
Volkswagen and Redwood's EV battery recycling project will be facilitated by VWGoA's nationwide network of approximately 1,000 dealers. The partnership takes a different approach to the process from the beginning of the battery's life to its end. The new methods will allow for more sustainable use of each battery component from the time it leaves the assembly line to the end of its life span, as Volkswagen continues to shift to a more electric road this collaboration supports local battery capacity and expertise. Volkswagen will use its old batteries to help power assembly line across the nation. 
"For Volkswagen, betting on electrification means driving sustainable solutions at all times," announced Scott Keogh, president, and chief executive officer of Volkswagen Group of America, Inc.
VWGoA will begin establishing EV battery capability in current and upcoming lineup across North America, as Volkswagen plans to introduce more than 25 battery-equipped electric vehicles in the near future. The partnership will integrate battery prototypes from Volkswagen's research facilities, as the Battery Engineering Laboratory (BEL) located in the Chattanooga facility. Redwood Materials along with Volkswagen's distributors will identify the battery and materials at the end of their life cycle and then package and transport them safely and effectively to its facility in Nevada. 
"Redwood and Volkswagen Group of America share a vision of creating a domestic circular supply chain for batteries that will help improve the environmental footprint of lithium-ion batteries, lower costs and, in turn, increase access and adoption of electric vehicles," said JB Straubel, founder and CEO of Redwood Materials. 
Each battery that arrives at Redwood contains an end-of-life consumer device, Redwood is responsible for extracting raw materials such as cobalt, copper, nickel, and lithium for refining and remanufacturing. Volkswagen Group of America and Redwood Materials aim to reduce the cost of batteries, especially now when the world is working together to end carbon emissions. Volkswagen is targeting 55% of its sales to be all-electric in the U.S. by 2030 as the company transforms North America into an all-electric vehicle manufacturing powerhouse. 
Drive New Volkswagen With Our Help At Southern Volkswagen
At Southern Volkswagen, we're more than excited to help our customers and we have the right staff to make it happen. Searching for a new option to buy or lease? Take a look at our new vehicle inventory or our quality pre-owned vehicles. We can help sell your current vehicle or bring it back to life like new with an online appointment to our service center. Allow our professional techs to get started on all repairs or maintenance work.
We're here to help with any financial help, needs or suggestions to help make paying for a vehicle easier. Reach out to us and see what we can do for you today at Southern Volkswagen.