Volkswagen Announces Jetta GLI Performance Concept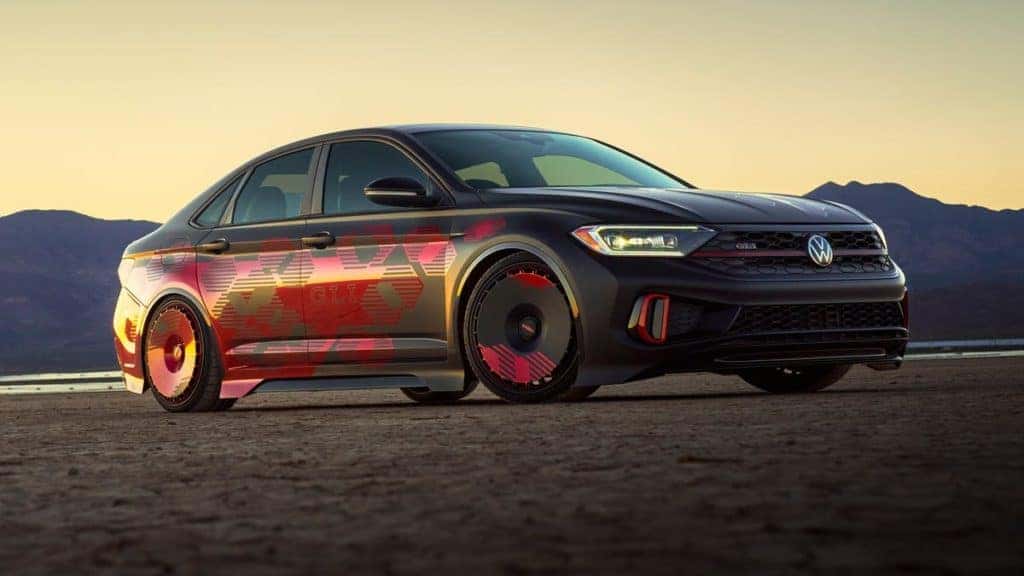 Photo credit: Volkswagen
Volkswagen presents a new Jetta GLI Performance concept at the Specialty Equipment Market Association Show® (SEMA) which will be held this year in Las Vegas, Nevada. The show will feature the performance concept as well as eight concept vehicles close to the Volkswagen booth located inside the North Hall of the show. Now let's explore more about Volkswagen's new Jetta GLI model.
The Jetta GLI model made its big debut in 1984 and has been affectionately referred to as a "GTI with a trunk" for decades. The Jetta GLI has often shared certain interior and hardware similarities with the Golf GTI model, just as the Jetta has been a driver's car for forty years of Volkswagen's existence. To pay homage to the long run in the model line Volkswagen borrowed features from the GLI's rich history in the city of Los Angeles California, managing to amplify the characteristics in a complete reworking of the Jetta GLI model in its exterior and underpinnings.
The GLI performance concept is built on a 2022 Jetta GLI Autobahn, featuring a six-speed manual transmission, the new concept comes equipped with rear fenders that are 0.8 wider than the original fenders and are equipped with rear vents. The Jetta GLI Performance features fender flares attached to the profile through large-profile side skirts and are inspired by motorsports. The GLI Performance bump stop has integrated air intakes in the larger grille, while the bodywork at the rear of the vehicle features updated grille inserts and a more robust valance that highlights the dual-exit muffler. The Jetta GLI Performance is covered in a customizable matte black hexagon-themed vinyl wrap that perfectly matches the factory Kings Red Metallic paint color.
RacingLine augments the IS38 turbo-based performance package on the GLI Performance, constructed from Volkswagen's EA88 Gen 3 engine, plus the GLI Performance features an R600 carbon fiber cold air intake, a performance intercooler that delivers the necessary amount of cold air, an oil management kit, and an oil cooler that aids in thermal management of the engine. The GLI Performance six-speed transmission paired to an upgraded performance clutch package pushes power to the front wheels. RacingLine added a Big Brake Kit (BBK) with Stage 3+ six-piston forged calipers with 15.0-bore carbon-ceramic discs on the GLI Performance, helping to counterbalance the vehicle's 350 horsepower and 372 lb-ft of torque over the original 228 hp and 258 lb-ft of torque.
Achieving the extra forward momentum with the RacingLine augmented TrackSport Coilover suspension kit. This was manufactured using the brand's extensive racing experience. The GLI Performance has an added set of RacingLine underbody reinforcements that give the vehicle increased body rigidity, precise suspension geometry, and reduced subframe deflection. In addition, the vehicle features 20-inch Rotiform® "GRZ" forged monoblock wheels with AERO DISC tires that feature a customizable finish, taking the Jetta GLI's on-road performance to another level.
Come To Southern Volkswagen To Test-Drive A New Volkswagen Today!
Are you excited about getting a new car? So are we! At Southern Volkswagen, we're more than excited to help our customers, we're thrilled. Looking for a new option to buy or lease? Take a look at our new vehicle inventory or our quality pre-owned vehicles. We can help sell your current vehicle or bring it back to life like new with an online appointment at our service center. Allow our professional techs to get started on all repairs or maintenance work.
Looking for options with any financial help, needs, or suggestions to help make paying for a vehicle easier? Apply for Auto financing. Stop by today and see what we can do for you at Southern Volkswagen right now.