Volkswagen And "Obi-Wan Kenobi" Join Forces For The Launch Of The All-New ID.Buzz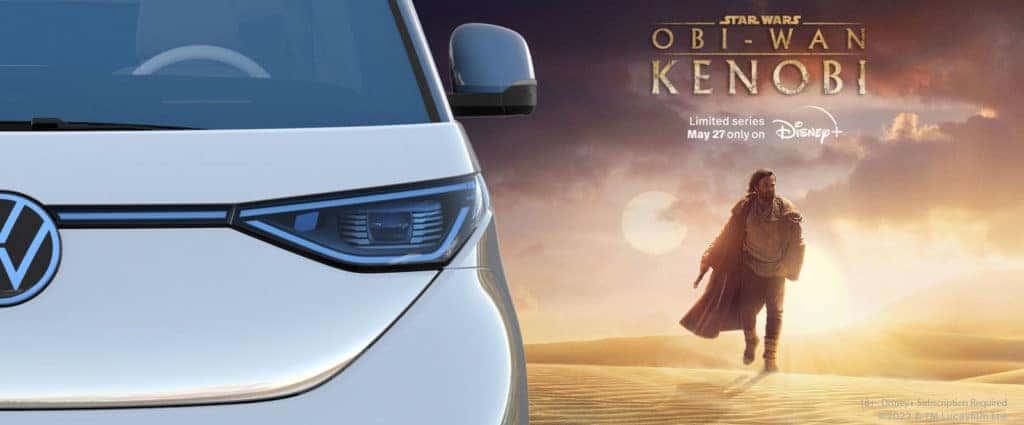 Photo credit: Volkswagen 
In your very own galaxy, two of the strongest forces ever known are teaming up to launch the most innovative electric driving machine ever constructed. Volkswagen announced it will be collaborating with Jedi Master Obi-Wan Kenobi on the launch of its revamped iconic van, the Volkswagen ID. Buzz. The highly anticipated limited Star Wars series "Obi-Wan Kenobi" is taking the world by storm and Volkswagen is hoping that a joint effort with the renowned saga will generate excitement about its all-new electric ID. Buzz. The futuristic tech-filled world of Star Wars is a perfect pairing with Volkswagen's vision of developing carbon-neutral driving technology.
Klaus Zellmer, Volkswagen Board Member for Sales, Marketing, and After Sales, is "thrilled" about joining forces with Obi-Wan Kenobi. "We are uniting two strong global brands in this collaboration and generations of fans who grew up with their respective icons. By joining forces we will have the opportunity to engage new target groups in regards to e-mobility, innovation, and digitalization," said Zellmer. An advert will run across multiple markets in which several iconic characters from the series "Obi-Wan Kenobi" will appear alongside the Volkswagen ID. Buzz. Also included in the marketing campaign will be two special edition Star Wars ID. Buzz models will be revealed at the Star Wars Celebration at Disneyland in Anaheim, California.
Volkswagen has discussed how excited they are to work with Ewan McGregor, the actor who plays the role of Master Obi-Wan Kenobi, who they named as their newest brand ambassador. Klaus Zellmer described the pairing with McGregor as "a perfect match" who has been an avid fan of Volkswagen since his youth and a collector and daily driver of Volkswagen throughout his life. "I have been a Volkswagen enthusiast for all my life. Since I had my first Volkswagen when I was 16 years old. And I have collected them ever since." said McGregor. After being present for the Volkswagen world premiere of the ID. Buzz, McGregor noted: "The ID. Buzz has really got character. That is unusual for a new car and it puts a smile on my face. I think it is a really happy car.".           
Volkswagen's ID. Buzz and the limited Star Wars series "Obi-Wan Kenobi" share similarities. Both were instant icons upon their original release and both have fans across the world patiently waiting for their return. It has been decades since the world first saw the Volkswagen Bus in 1950 and Obi-Wan Kenobi in 1977. Luckily, the wait is almost over and both of these icons will be reconnected with their fans.
Drive New Volkswagen With Our Help At Southern Volkswagen
At Southern Volkswagen, we're more than excited to help our customers and we have the right staff to make it happen. Searching for a new option to buy or lease? Take a look at our new vehicle inventory or our quality pre-owned vehicles. We can help sell your current vehicle or bring it back to life like new with an online appointment to our service center. Allow our professional techs to get started on all repairs or maintenance work.
We're here to help with any financial help, needs or suggestions to help make paying for a vehicle easier. Reach out to us and see what we can do for you today at Southern Volkswagen.