Professional Soccer Players Meet Two Beetle 1303s At The Volkswagen Arena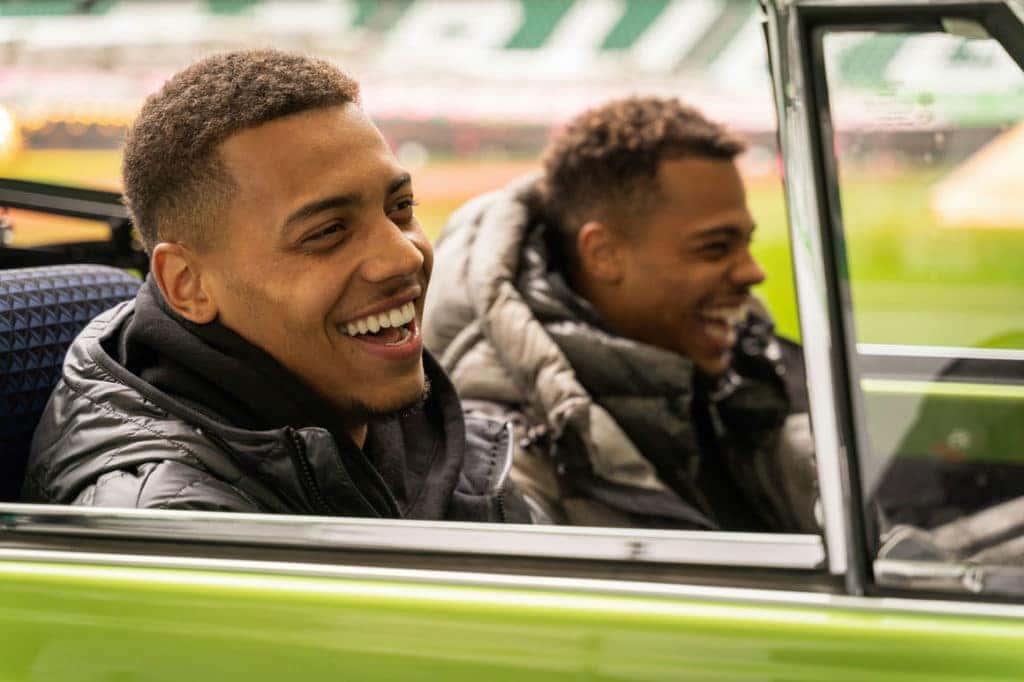 Photo credit: Volkswagen
Two world-famous soccer players from Wolfsburg will spend 90 min together but not on the field as usual instead with two special Volkswagen Beetle 1303 Cabriolets. Players Lukas and Felix Nmecha met in front of the Volkswagen arena while fans waited to catch a glimpse of their football idols during training. The two seasoned players don't only have a connection on the field but the brothers share their love for vehicles also. Volkswagen Classic has issued an invitation to a special get-together where the German-English players who have been on the Wolfsburg first team since July 2021 can drive the two vehicles. The whole Wolfsburg team finished a training session and walked by the two iconic vehicles stunned by their beauty.
The two Volkswagen Beetle 1303's were built in 1978 which is only obvious from the outside, due to the older model look. The true modifications become clear when the hood is opened, no engine can be found but you will find lithium-ion batteries that power the vehicles. Correct, a battery-operated vehicle with state-of-the-art -accessories inside an older Beetle model. The Beetle 1303's carry a 60 kW (82 PS) battery that powers for quick acceleration, and also powers LED lights and all of the electronic components. Lucas and Felix couldn't wait to hop into the two classic vehicles and take them for a spin.
The two brothers have achieved so much on the field, Lukas is a European champion with England at U19 level and Germany at U21, a League Cup winner and an English champion. After years at Manchester City he is now back with the wolves. Lukas, being a striker with the number 10 on his shirt, has played alongside Felix since this summer. Felix is a midfielder who has also enjoyed success in junior championships with England and Germany. Felix was part of Manchester City at one point also, and now he wears the number 22 at Wolfsburg.
Volkswagen has been moving at top speed expanding their all-electric ID.Family. The newest addition to be revealed is the E-Beetle which CEO Herbert Diess announced himself. Referring to it as the "People's Car", the E-Beetle is the concept the Volkswagen fans all around the world want to see. Another vehicle that is part of the ID.Family is the 2024 ID. Buzz. The groovy microbus will come with customizable seating patterns, available captain's chairs, and an electric powertrain that can produce 300 horsepower and pack a range of up to 340 miles on just one charge. Interested in checking out one of the electric vehicles in the ID.Family?
Come And Join The Electric Family At Southern Volkswagen of Greenbrier!
At Southern Volkswagen, we're more than excited to help our customers and we have the right staff to make it happen. Searching for a new option to buy or lease? Take a look at our new vehicle inventory or our quality pre-owned vehicles. We can help sell your current vehicle or bring it back to life like new with an online appointment to our service center. Allow our professional techs to get started on all repairs or maintenance work.
We're here to help with any financial help, needs or suggestions to help make paying for a vehicle easier. Reach out to us and see what we can do for you today at Southern Volkswagen.